On Friday, September 17, 2021, the Fall 2021 Ceremony was held. As a measure against the spread of COVID-19 infection, the ceremony was broadcasted from Millennium Hall to an online audience. Excepting the student representative speakers, graduating students joined via Zoom, whereas their friends and family watched the livestreams on YouTube and Facebook. Despite spending more than the last year of their student life amid the COVID-19 pandemic, 597 undergraduates and graduate students (472 international and 125 domestic) from 41 different countries and regions successfully completed their degrees.
During the ceremony, Vice-President and Acting President Hiroshi Yoneyama gave the following message to the graduates:
First, I would like to congratulate all the students on your graduation. You have made it to this day thanks to the support and encouragement of many people, including your classmates, friends, upperclassmen and underclassmen, staff, faculty, the people you met on off-campus programs and study abroad, and your bosses and co-workers at your places of employment. You were exposed to many cultures on APU's global campus, and you overcame obstacles and doubts as you pursued your studies and research in globally oriented majors. I would also like to take this opportunity to thank the guardians and families of today's graduating class for supporting their studies. Please accept my sincerest congratulations on behalf of everyone at APU.
In the final year and a half of your time at APU, we witnessed a global pandemic—a rare occurrence in human history. I'm sure you faced many inconveniences and anxieties, but you were able to continue your studies at APU while connecting with your friends scattered around the world, and you provided each other with encouragement as you headed towards graduation. I have nothing but the deepest respect for your resilience, or in other words, your ability to withstand adversity.
You can see the rest of the Vice President's message here.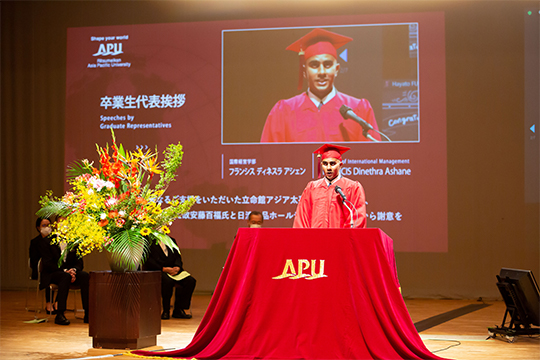 Representing the undergraduate students, the recipient of this year's Ando Momofuku Honor Prize, Ashane Francis (School of Asia Pacific Studies, Sri Lanka), addressed the online audience:
Honestly, as I deliver this speech, I believe each one of you has your own story and all of you deserve to be on this stage and be rewarded for the effort and dedication you put in throughout the last 4 years. For that reason, I ask that you give a big round of applause to not anyone else but yourself for being resilient and dedicated to finishing your education at APU.
APU has been a phenomenal experience for the past 4 years of our lives. It has taught me the value of friendship. I barely knew anyone when I made my first steps towards AP House, but that was the first step towards embracing the diversity of APU and I am overjoyed at having made so many friends from different cultures and backgrounds throughout my four years.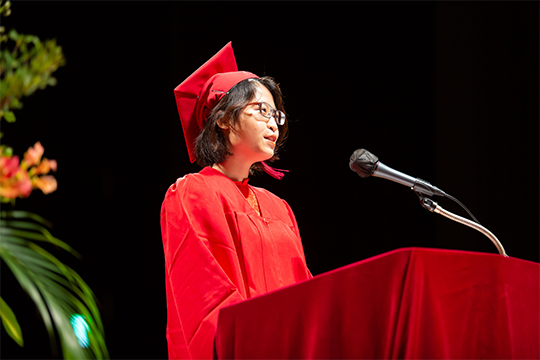 Then, Chi Ho Kim (Graduate School of Asia Pacific Studies, Vietnam) also gave a speech on behalf of the graduate students, stating:
And to that, I give my biggest cheers to everyone. For choosing to not give up. For making the choices that shape your world into a better one. When I first came to APU, I was impressed by the university slogan "Shape your world." It gave me a sense of responsibility about my own choices in life which subsequently shape who I am. It gave me hope, that I could build for myself the life I wanted. And as I look around, I could see my friends are shaping their own worlds as well. Some live their lives through travels and great, active connections with friends. Some choose to stay quiet yet take careful actions to complete their theses. Some join various activities at APU to enjoy the international experience and make as much friends as they can along the way. And as we reach the end of our journey at APU, and another journey that awaits you all in the future, I hope that you will keep with you the APU spirit, Shape your world by your choices.
The ceremony then concluded with a customary cap toss. APU's Alumni Association, with its 37 chapters across Japan and the world, continues to support exchange between members after graduation.
To watch the Graduation Ceremony previously recorded on Youtube Live, please visit the following link
https://www.youtube.com/watch?v=suSGyiUOrHc