イベント|チェンジメーカー
Oct 6, 2021
Shino Yokomine (横峯 詩乃) and Ryosuke Onizuka (鬼塚 亮輔) both graduated from the College of Asia Pacific Studies in 2012. Upon realizing that over the nearly ten years since they graduated from APU many friends have drifted apart, they decided to host a monthly online reunion starting this June. With the motto of "It's of alumni, by alumni, for alumni!", they hope this online community enables fellow alumni to stay connected by catching up on a regular basis remotely. The reunion takes the form of the speaker of the month nominating another alumnus or alumna to speak for the following month.
To start off, Keita Matsunaka (松中慶太) appeared as the first speaker on June 27. He is the manager of the Kobe branch of Motherhouse, a popular Japanese bag and accessory manufacturer with a vision to ensure that the unique craftsmanship of artisans in Asia is given the due recognition.
Daijiro Kikuchi (菊池 大二郎), who started his own business of teaching the knack of English pronunciation, was the second to speak on July 31, and owing to his popularity as a Youtuber, attracted a great number of current APU students.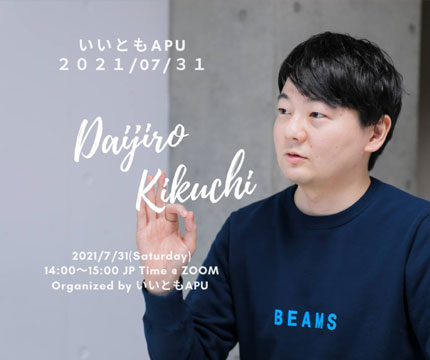 On August 20, the third appearance was given by Tetsuo Takahashi (髙橋 哲生), who headed straight to Taiwan after graduation to pursue a career in Japanese language teaching. Not only was this session enlivened by faculty members of APU's Center for Language Education, but it also provided precisely the kind of career advice for APU current students who wish to follow the same footpath of teaching Japanese language overseas after graduation.
And on September 11, Sakiko Yoshida (吉田 紗希子), the fourth speaker, related her experience of living first in Indonesia and currently in Italy. The one-hour conversation was not only attended by fellow alumni in Asia and Europe, but also by an alumnus in California, who reminisced about their time shared as fellow residents on the same floor of AP House!
The online gathering has been attended by well over 100 participants over the last four times, and created a virtual space in which alumni of any year, current students, faculty, and staff can enjoy each other's company and feel a sense of community with APU's global family.
The fifth session starting at 20:00 JST on Saturday, October 16 will feature Yuki Kawano (川野 優希), who will talk about her experience of being one of the Japan Overseas Cooperation Volunteers in Rwanda. And there is much more to look forward to in the coming months.
"いいともAPU" Facebook group:
https://www.facebook.com/groups/510417983314297