On Friday, September 24, 2021, the Fall 2021 Entrance Ceremony was held completely online as a measure against the spread of COVID-19 infection. New students from countries around the world attended via Zoom, whereas families, friends, professors, and staff watched over the ceremony on YouTube and Facebook livestreams.
This fall, a total of 508 individuals became part of the APU family. That is 375 undergraduates (36 domestic and 329 international), 77 graduate students (all of whom were international), and 56 short-term, exchange, and part-time students (20 domestic and 36 international). As of September 24, these students hailed from 63 different countries and regions, among them 2 African countries new to APU, Gambia and Seychelles .
This fall semester, classes will begin on Monday, October 4. However, only 5 new international students were able to enter Japan by the time of the Entrance Ceremony. Due to immigration restrictions under the COVID-19 pandemic, most international students have not been able to receive their visa and must start their university lives through online classes while still in their home countries and regions. As in October of last year, APU is prepared to support students' entry and welcome them to campus as soon as regulations are relaxed.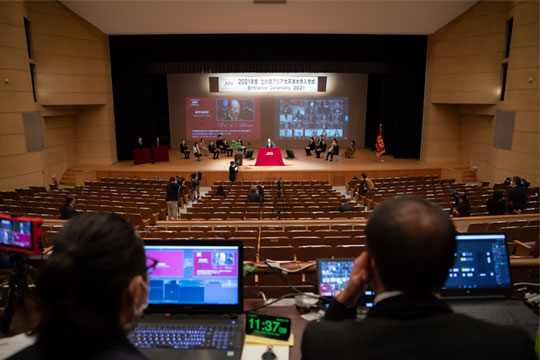 At the ceremony, Vice-President and Acting President Hiroshi Yoneyama congratulated the students with the following words:
Congratulations on your admission to APU. I would like to extend a wholehearted welcome on behalf of everyone at APU. I also would like to extend my heartfelt greetings to your families. This fall, APU is happy to welcome 508 incoming students, thus bringing the total number of students enrolled at the university to 5555, 2563 of which are international students and 2992 are domestic students. A total of 90 countries and regions are represented by the international student body at APU. In terms of the number of countries and regions represented on campus, other universities in Japan cannot compare. Our domestic students are also diverse, hailing from every prefecture of Japan. Here, not only will you study with students from all over the world, you will live with them in APU House and participate in club activities together. Through this and your interactions with older students as well as alumni around the world you will encounter different cultures and values, and deepen your knowledge as you develop character and make friendships that will last a lifetime.
You can read the rest of Vice President Yoneyama's Congratulatory Message here.
Representing current students, a 4th year, Celine Uwineza (College of Asia Pacific Studies, Rwanda), then took to the podium. She explained that although she was burdened by anxiety when she first started her life at APU, by remembering her and her parents' dream, she was able to positively accept new challenges. By trying her hand at various activities on campus, such as FLAG, she was given many opportunities of achievement and personal growth. She also shared her goal of starting a social enterprise in Rwanda before likening APU to a springboard; it is a place where new students can choose opportunities, meet their goals, pursue their dreams, and shape their own world.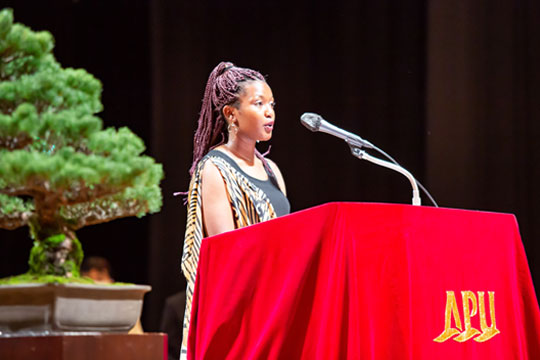 Yuina Takenaga (College of International Management), the representative of the new undergraduate students, gave a speech in English. She quoted the words of her high school teacher, and spoke on how life is a learning process and the choice to attend APU as a place to learn because she and her fellow students hunger for knowledge and experience. She implored the students to make the most of their limited time by gaining knowledge, interacting with various people, and broadening their horizons, so that they may grow into people who make the world a better place.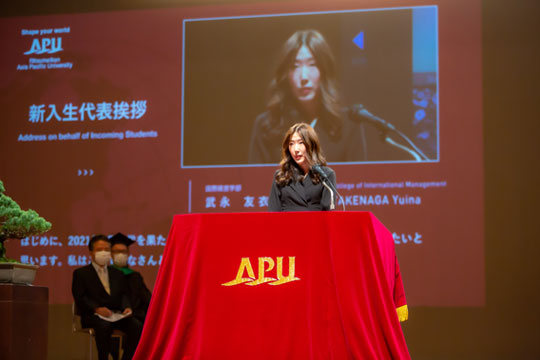 Next, Eylla Gutierrez (Graduate School of Asia Pacific Studies, Philippines) representing the entering graduate students, said in her speech that the pandemic made clear that working together rather than fighting alone is more effective in solving problems. From that experience, she realized once more the significance of education in APU's multicultural learning environment. She also encouraged her peers to follow APU's motto "Shape your world" by continuing to work together to solve problems, pursue bigger dreams, and reach higher places.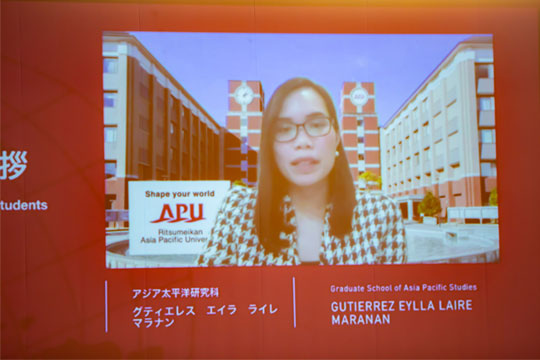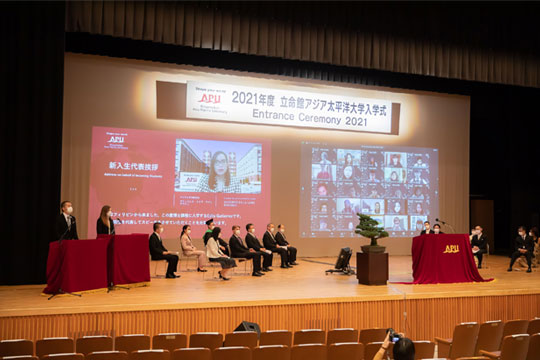 You can watch the footage of the September 2021 Entrance Ceremony at the link below. https://www.youtube.com/watch?v=hncDAD1oY1A