The Ryoichi Sasakawa Young Leaders Fellowship Fund (Sylff) fosters global leaders who can overcome differences in the world and solve various problems that exist in society. Founded in 1987, the program is currently being rolled out at 69 educational institutions in 44 countries and regions around the world, with three schools in Japan: APU, Waseda University, and Keio University. In 2010, with the $ 1 million USD donated by the Sylff program, APU established a scholarship for graduate students in the humanities and social sciences who are expected to become future leaders.
In September of 2021, 2 graduate students were chosen as APU fellows for this prestigious award.
KONUSI Sagaitu
(Graduate School of Asia Pacific Studies 3rd semester, Advisor:Professor, LI Yan)
Research theme:Waste Management in Fiji - Material Flow Analysis of Urban Households
RIDWAN Gunawan
(Graduate School of Management 3rd semester, Advisor:Associate Professor, NAKAJIMA Katsushi)
Research theme:The Emerging of Social and Sharia Ethical Companies in Indonesia: Performance and Volatility Comparison between Socially Responsible and Sharia Compliance Investments and Conventional Portfolio.
An online orientation was held for the new fellows on September 27, in which a congratulatory speech was given by Vice President of the Ritsumeikan Asia Pacific University and Young Leader Scholarship Fund Selection Committee KIM Chan Hoe. Also in attendance were the Dean of College of International Management, ALCANTARA Lailani L., and 2013 Sylff fellow and associate professor at the College of International Management, ACKARADEJRUANGSRI Pajaree. In particular, Associate Professor Pajaree encouraged the new fellows, saying, "This network of excellent researchers around the world will be an asset even after graduation. I hope you will do your best to make the most of this precious opportunity."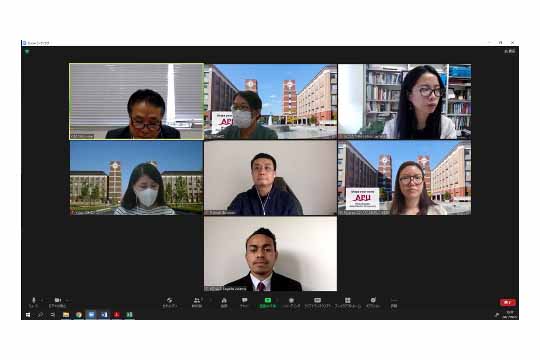 Mr. KONUSHI said of the fellowship, "I will use this opportunity to further develop myself as an academic researcher to address the urgent environmental and social issues of our generation." Mr.RIDWAN, the other chosen fellow, said, "I am truly honored to be a new fellow of the Ryoichi Sasakawa Leaders Fellowship Funds (Sylff). It is a tremendous honors and opportunity to show my endeavor to finish this research and impact society."