Ritsumeikan Asia Pacific University formulated the medium- to long-term plan "Challenge Design" from 2021 to 2030 in order to realize the APU 2030 vision " APU Graduates possess the power to change our world" and has been working on it since 2021. In connection with the opening of the new college in April 2023 and the reform of the two existing colleges, we are planning to build a new academic building and another AP House (on-campus housing) that will further enhance APU education. Construction will begin in December 2021 and is scheduled to be completed in February of 2023.
In the new school building and AP House, we will strive to improve the quality of learning by creating spaces to facilitate group work and presentations between students and faculty members with diverse cultural backgrounds, and thereby leverage APU's strength. In addition, we will create spaces where we can interact with companies and organizations outside the university, and develop "blended education." We aim to complete a better academic building and AP House while incorporating the opinions and ideas of students regarding the space mainly intended for their use.
■Overview of the new academic building
The new building will be constructed on the lawn on the right side past the main gate next to Building B. It will be a three-story building with a structure that combines steel and wood. The building will house a group of classrooms consisting of mid-sized classrooms, horseshoe-shaped classrooms, small classrooms, etc., as well as various spaces for students to stay (Student Commons), faculty research offices, and community collaboration spaces
Concept of the exterior of the new school building: A space using wood in the center and commons with a bright and warm atmosphere that captures a lot of light
Contributing to a carbon-neutral society with Japan's top-class wooden construction
The central part of the new school building will be constructed of wood. APU plans to use mainly Sugi wood from Oita Prefecture. Only timber that is recognized as compliant with the Clean Wood Law will be used, and the amount of timber is assumed to be 400 cubic meters or more, which will make it one among the top-class wooden constructions in Japan. By adopting wooden construction, APU will contribute to CO2 reduction and promote efforts toward the realization of a carbon-neutral society. In addition, with the establishment of the College of Sustainability and Tourism, this wooden building, as living material, symbolizes APU's concept and philosophy of strengthening various human resources to realize a sustainable society and will a major role in that goal.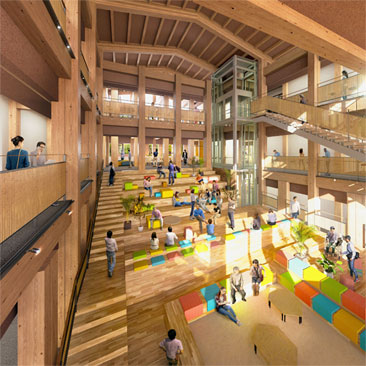 Concept for the central part of the new building of theology: Wooden grand staircase commons using wood from Oita Prefecture
New Academic Building Architectural Overview
Building area: 2,802.02㎡
Total floor area: 6,495.95㎡ (Inner wooden construction target area: 1,400㎡: Central part)
Structure: Steel structure (S structure) + wooden structure
Number of floors: 3 floors above ground
Main function
・Mid-sized classroom (150 people, group work & school type) 2 rooms
・Mid-sized classroom (200 people, group work & school type) 2 rooms
・Group work specialized classroom (150 people) 3 rooms
・Horseshoe-shaped classroom (65 people) 1 room
・Small classroom (32 people) 9 rooms
・23 faculty laboratories
・Student space (Student Commons)
・Regional cooperation space 1 room
■Overview of the new AP House
The new on-campus housing building will be built next to the current tennis court, and will be a reinforced concrete building with 4 floors above ground. The entrance is on the 4th floor and will be accessible from the campus by a bridge. The basic floor composition is divided into a dormitory room area, which is a living space that is quiet and private, and a central area, which has various spaces for interaction. There are 261 dormitory rooms, including 7 barrier-free rooms. Combined with the existing on-campus AP Houses, the total number of rooms will be 1,571. Until now, AP Houses did not have enough rooms to accommodate all new students who wished to move into rooms on campus, but with the construction of this new AP House building, almost all new students who wish to move into on-campus housing will be able to move in.
With the concept of "Residential Education & Residential Wellbeing", AP House aims to be a place to support the learning and healthy growth of mind and body for students in their first year of university. APU will also develop spaces and programs where APU House students can interact with other students as well as locals and companies.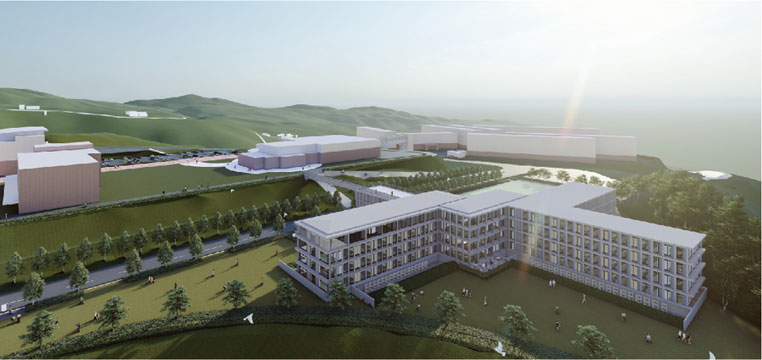 New AP House Concept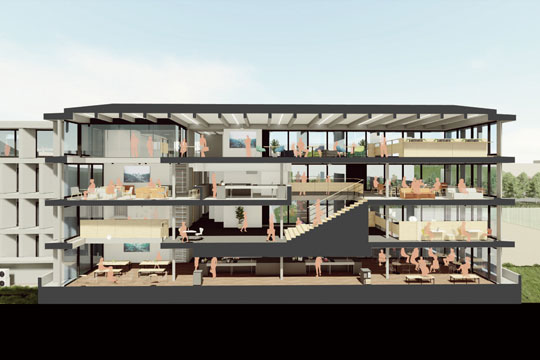 New AP House Interior Concept
A place to promote learning through communal living
New International Education Dormitory (AP House) Architectural Overview
Building area:1,918.23㎡
Total floor area:6,156.78㎡
Structure:Reinforced concrete
Number of floors:4 above ground
Number of rooms : 261 rooms