教育プログラム|連携事業
Jan 24, 2022
The first hybrid module of Fall 2021's Special Lecture, Sustainable Management of Social-ecological Systems, could not have been more timely. During the final week of the COP 26 UN Climate Change Conference, APU's Professor Oscar A. Gomez (APS) lectured on the theme of climate change adaptation to students both at the APU and Kyushu University campuses.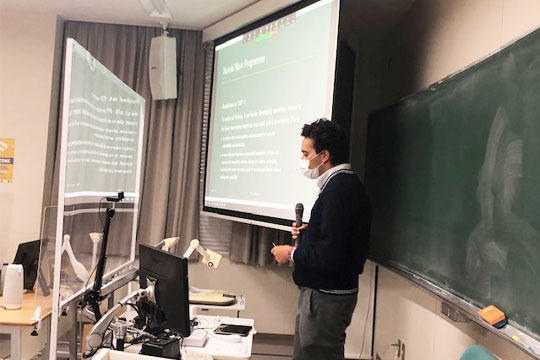 Kyushu University's School of Interdisciplinary Science and Innovation and APU jointly designed this course to allow students with different backgrounds from both universities to collaborate in problem-based learning projects. Four faculty members of the College of Asia Pacific Studies, Professor Giguruwa Nishantha, Professor Thanh Huong Bui, Associate Professor Gomez, and Assistant Professor Alexandru Dimache, alongside Kyushu University professors developed a curriculum comprising of four modules addressing a wide variety of social and ecological issues.
The four modules of the course included ICT for social-ecological network, Climate change mitigation and adaptation, Business for change, and Biodiversity. The collaboration allowed faculty to make full use of different expertise and experience. The professors of Kyushu University have expertise on on natural sciences, whereas APU professors are strong on social sciences. The diversity of their perspectives were advantageous when the students created solutions to trans-disciplinary problems.
This collaboration also meant that for the first time, the joint-class between APU and Kyushu University was delivered to two campuses simultaneously. APU's push for digital transformation made it possible to offer hybrid lectures in a classroom setup. For this class, a series of monitors and a 360-degree camera were utilized to facilitate student group work and discussion across time and space differences. On November 10th, Professor Gomez gave his lecture at the APU campus, while APU students were connected to the lecture from 3 different rooms by Zoom through the cameras, and Kyushu University students logged in from Fukuoka Prefecture. During the discussion, APU students could more easily communicate with teammates from the other school utilizing the digital meeting equipment with technical support from APU's Academic Office.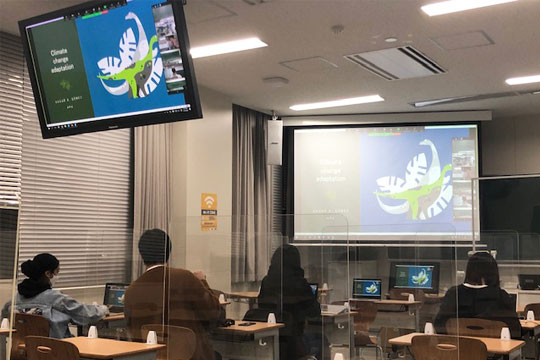 This course was one initiative taken by APU to establish the best mix of real and virtual problem-based learning as well as expanding regional collaborations in education.