On December 4, 2021, the APU team tied for first place with Kobe University at the CFA Institute Research Challenge 2021-2022. The APU team, which includes both undergraduate and graduate students, started their path to victory with the qualifying round held in August 2021.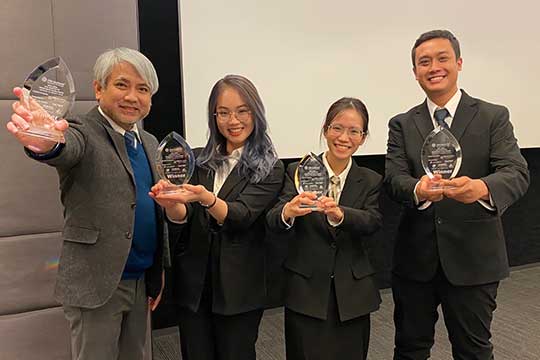 The CFA Institute Research Challenge is an educational networking event, in which over 5,700 students from 950 schools around the world participate. The teams, consisting of 3 to 5 undergraduate and graduate students, compete by acting as stock analysts for companies designated by the CFA Institute.
This year, a total of 24 teams from 16 universities participated, including 8 teams from Hitotsubashi Univerity, Kyoto University, Nagoya University, Rikkyo University, Tokyo University. The winning APU team has earned their spot at the Asia Pacific Sub-Regionals. If they advance and win in the Asia Pacific Regional Finals, they will move to the Global Final, in which they will compete against the representative teams from each country, sub-region, and region.
APU Team Members
Ridwan Gunawan (Graduate School of Management 3rd semester, Indonesia)
Thi Khanh Giang Nguyen(College of International Management 7th semester, Vietnam)
Ngoc Quynh Tram Nguyen(College of International Management 3rd semester, Vietnam)
Comment from Ridwan Gunawan:
We believe that this competition has brought us to a next level we had never imagined before. It enhanced our capabilities not only in finance and investment but also in teamwork and time management. We are sure those will equip us to overcome the challenges in the future.
However, it is not only our team's victory, but it is a collective achievement with the people around us. We want to thank every person who has supported us in overcoming this challenge, such as our faculty advisors (Professor Pardo and Professor Cortez), Professor Alcantara, and Professor Fan Pengda, who challenged us to strengthen our arguments, our CFA mentor, Carlos san, who was never absent from evaluating our report analysis every week, and last but not least, our families and friends also had a significant impact on our journey.
APU started participating in this competition in 2013, and in 2018, the APU team won the national tournament and advanced to the Asia Pacific Sub-Regionals, held in Sydney. Since then, the APU team has participated in the national finals every year.
*The CFA (Chartered Financial Analyst) Institute Research Challenge is an annual global competition that provides university students with hands-on mentoring and intensive training in financial analysis and professional ethics.
Click here for the CFA Institute's website.