On January 9, 2022, Nodoka Mukai (College of Asia Pacific Studies 2nd year) took 4th place at the 39th National Chinese Speech Contest sponsored by the Japan-China Friendship Association and held in Tokyo. Mukai gave a speech on how she realized the significance of language learning through studying Chinese under the title of "My Life Guided by Chinese."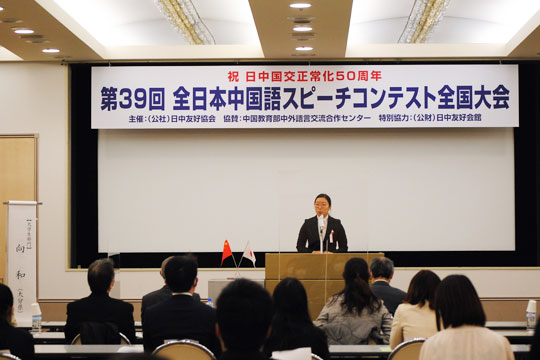 Originally from Nagasaki, Mukai, motivated by her interest in foreign cultures, poured her effort into studying Chinese, Korean, and English throughout middle school and high school. Having completed primary education and wanting to immerse herself in an international environment, she applied to APU. Here, she began working in earnest on improving Chinese, such as taking advanced Chinese IV, and in the fall of 2021, she even began studying abroad online at a Chinese university. After deciding to enter the speech contest, she put her heart into preparing and received the support of APU professors and students, who kindly took the time to instruct her on Chinese pronunciation and expressions.
Mukai said with a smile, "Until now, I had always set limits on myself. But recently, I began to believe strongly that I can overcome any difficulties, and that challenging myself is actually fun. I became a positive thinker. Once I complete my study abroad, I want to become an RA at AP House, a challenge I had given up on when I decided to study abroad. I also want to take classes to improve my Korean. I want to develop my Chinese, Korean, and English because I hope to have a future in which I can use these 3 languages while engaging with others."
At APU, in addition to Japanese and English, students can study the 6 languages of the Asia Pacific (Chinese, Korean, Malay/Indonesian, Vietnamese, Thai, and Spanish) from beginner to advanced levels. There are many students and professors on campus who speak one of these as their native language, allowing students to strengthen their language ability through daily interactions with others.