教育プログラム|学生生活|SDGs
Feb 8, 2022
On January 8 and 9, 2022, College of Asia Pacific Studies' Assistant Professor Dr. Miharu Hirano and Ritsumeikan University College of International Relation's Associate Professor Megumi Ochi conducted moot courts in a joint seminar. Participating students included 7 individuals from Ritsumeikan University and 20 from APU of varying countries and regions, as well as class years.
Ritsumeikan University's Associate Professor Ochi specializes in international crime, a theme that was touched on during the moot courts, and her seminar students participated in the 2021 International Humanitarian Law Moot Court and Roleplay Competition as well.
In the joint seminar's moot court, set in the International Criminal Court, students divided into defense and prosecution teams to engage in a battle of words in English over a fictional case while making full use of their knowledge of international criminal law and international humanitarian law. This joint seminar was designed for the purpose of learning and interacting with another university as well as for APU students to deepen their understanding of the subject with the help of Professor Ochi's expertise in international crime.
From Dr. Hirano's seminar, the 3rd year students participated in the moot court at the joint seminar, while 4th year students participated in the 2021 International Humanitarian Law (IHL) Moot Court and Role-play Competition. In this competition, one APU team won the role-play section, whereas the other advanced to the semi-finals of the moot court category.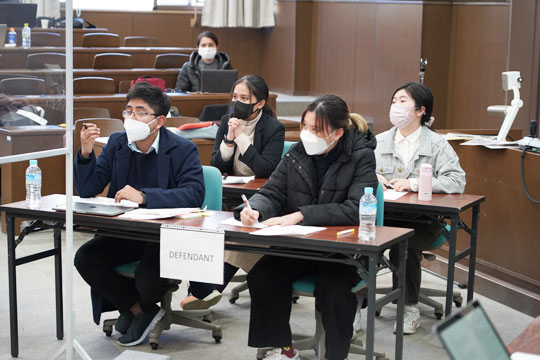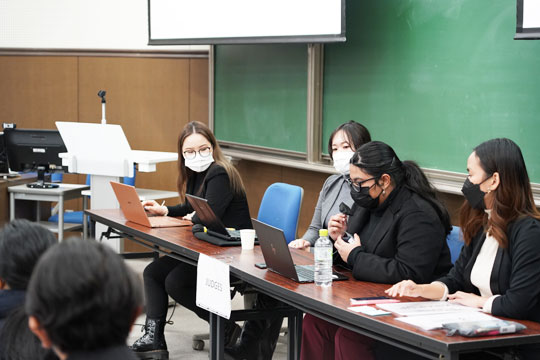 For the joint seminar, the participating students, prior to training for their oral arguments, prepared a document to be submitted to the opposing team and the judge in advance. In addition, APU students created an interactive site in advance to welcome the Ritsumeikan University students.
On the 8th, Associate Professor Ochi and guest Kosuke Onishi, a doctoral student at Doshisha University, gave a research presentation on the theme of "the point of contact between international humanitarian law and international criminal law." Then, APU students organized icebreakers and other activities to get to know their guests better.
On the 9th, three moot courts were held with faculty members, guests, and 4th year students who had participated in the competition as the judges. There was heated debate, and in the end, the award was given to the team with the most votes, which were cast by faculty and students.