On Friday, April 1, the 2022 Spring Entrance Ceremony was held at B-con Plaza in Beppu City, welcoming 918 new students from around the world.
This spring, the university welcomes 894 undergraduate students (675 domestic and 219 international), 24 graduate students (1 domestic and 23 international), and also 80 exchange students (45 domestic and 35 international) from 18 countries and regions. (as of March 29, 2022)
President Haruaki Deguchi welcomed the new entrants and offered encouragement: "Congratulations on your enrollment to APU, everyone. I welcome you with all my heart. Last year, I collapsed due to a cerebral hemorrhage. Wanting to quickly see everyone again at APU, I have been doing my best in rehabilitation for this past year. During your time at APU, by all means, meet many people, read many books, travel far and wide, and take on many challenges. I will also continue to challenge myself, so let's take on the challenges together. I hope that soon the day will come when the world will be at peace."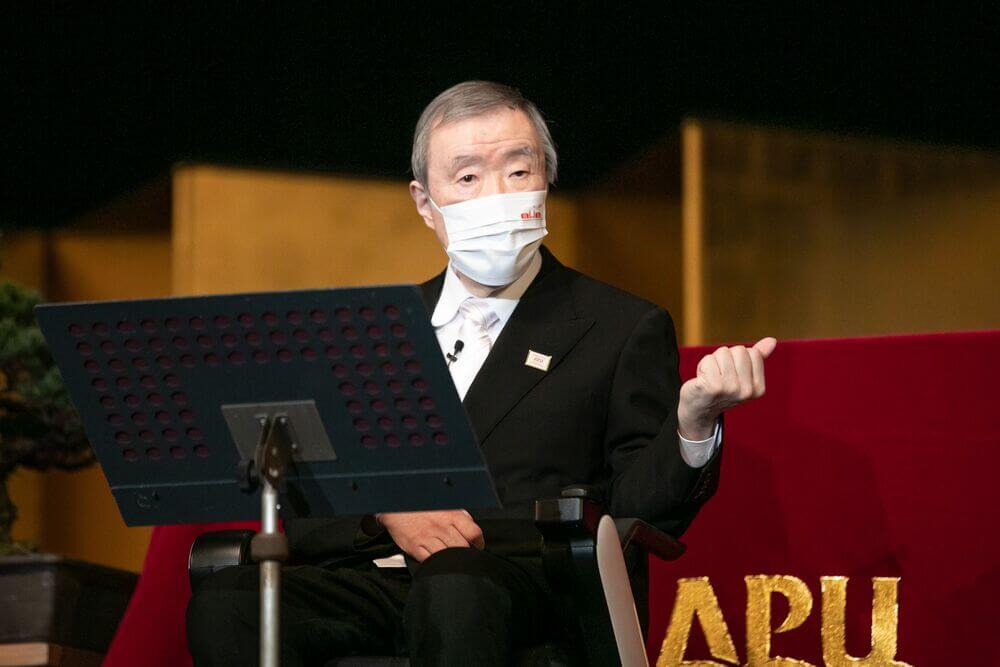 ―――President Deguchi's full comments can be found here.―――
MENDIN Dorcas K (Asia Pacific Studies 3rd year, Liberia) welcomed the new entrants on behalf of current students. She also advised them to find what they want to do, make efforts with confidence, and look back on those experiences to move forward.
TAKAMURA Rin (College of Asia Pacific Studies, Japan) spoke at the venue and AMOAH Cosmos (Graduate School of Management, Ghana) made a video speech, representing the undergraduate and graduate new entrants, respectively.
Takamura spoke on behalf of the new undergraduate students: "The current situation of the world is extremely serious. I feel that now is the time when the world needs people who can speak equally and calmly with others regardless of nationality. APU is a university where we can study with 2,700 international students from various places around the world from morning to midnight. Maybe, there will be some conflicts due to cultural differences and differences in our sense of values. However, discussing our opinions, sometimes in different languages and coming up with our own solutions can certainly be connected to deepening our relationships... It is up to us on our own to make the four years of our student lives livelier and more colorful. I believe that all of you, including myself, will have four years full of vitality and cooperation. From now on, let's build a wonderful and colorful student life together!!"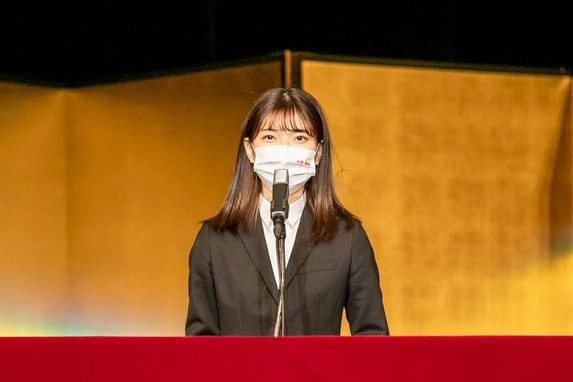 Amoah shared his aspirations for the future in a video speech: "I believe the choice of the learning environment is as important as the learning itself. APU stands out among all the numerous universities, as it is composed of a world represented student body, worldwide, with over 90 countries as its student body. Here in APU, we would shape ourselves, shape our world, and to be good members of our society. By the end of my studies as a graduated student, I hope to design an economic model. I believe that most African countries and the world at large, may benefit from this model, if designed. I would want to be an advocate for innovation, which is a catalyst and a driver for economic growth... To my colleagues watching from home because of COVID-19 and other unexpected events, I am with you in prayer, and I hope to see you soon at APU so that we can start our academic journey together. Learn from each other in terms of cultural perspective, a new language, and an overall academic experience."
You can view the full ceremony by visiting our official YouTube channel.