講演・シンポジウム|SDGs
Apr 22, 2022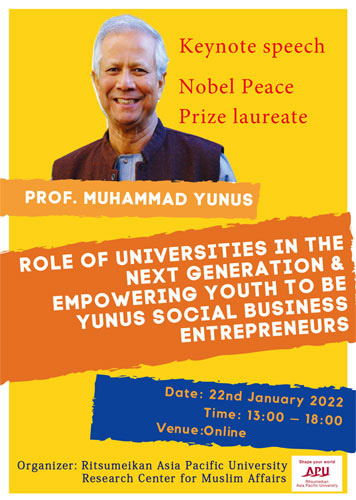 On Saturday, January 22, APU's Research Center for Muslim Affairs held an online symposium to introduce the efforts of social entrepreneurship and related organizations and their future.
Dr. Muhammad Yunus, founder of Grameen Bank and winner of the 2006 Nobel Peace Prize, presented the keynote speech under the theme of "The Role of Next-Generation Universities Respecting Diversity and Supporting Young Social Entrepreneurs".
First, Dr. Yunus discussed what should be done through social entrepreneurship to help achieve the 3 zeros: zero poverty, zero unemployment, and zero CO2 emissions. Regarding the role of the universities, Dr. Yunus urged how important it is to cultivate imaginations strong enough to envision a better future. Just as the trip to the moon seemed like a fantasy in the past, while handing down the wisdom of the past, universities should challenge the understanding of our ancestors and aim for the future.
In the panel discussion, in addition to APU, Kyushu University, iU, Ryukoku University, Yoshimoto Kogyo, and GBL Co., Ltd. introduced their own efforts and discussed the necessity and implementation of social entrepreneurs as well as future developments.
Professor Iku Natsuta of the College of International Management, Associate Professor DAHLAN NARIMAN of the Research Center for Muslim Affairs, and Hikari Furukawa (College of International Management 4th year), who started Amairo Shoten, represented APU. In addition, alumnus Michael Wu (Class of 2011), who started his business as a circle while attending APU and is now president of GBL Co., Ltd., made a video appearance. Also from GBL Co., Ltd., Fatemee Muhammad (Class of 2013) and Khadijah Sajarana (Class of 2019) also took the podium. Lastly, JAYATHILKAE Birendre (Class of 2017) from Yoshimoto Kogyo spoke as well.
Since this symposium was open to the public as well as students, there were more than 300 applications in total, including those from overseas. It was an opportunity for APU students not only to learn about the future of the world and social business, but also to think about the significance of studying at university.