教育プログラム|連携事業|SDGs
Aug 18, 2022
On Friday, July 1, 2022, the First Joint Industry-Government-Academia Brainstorming for SDGs took place in Professor Tomonori SUDO's lecture, Introduction to Development Studies JA. In this collaboration between Professor Sudo and Sanrio Entertainment, Development Studies students, staff from Harmony Land's SDGs Development Project, Oita Prefecture officials, as well as high school students from Beppu Shosei High School took part in the brainstorming session.
Starting off the class, Sanrio Entertainment President Aya Komaki and Hello Kitty, who dressed in SDGs colors, took the podium. Next, Oita Prefecture, Director of Commerce, Industry, Tourism and Labor Wataru Takahama and NICCON, Inc. President Tomie Sato stated their hopes for the project.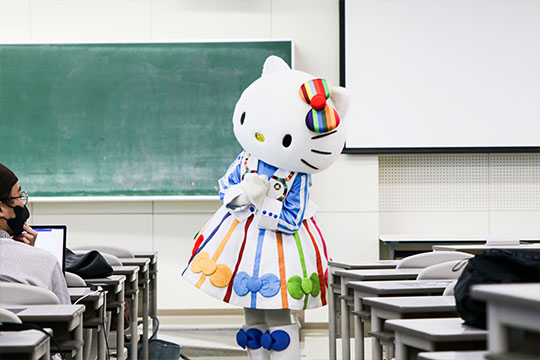 ©'76, '09, '22 SANRIO
Under the theme, "The Future We Want," participants shared ideas and came up with concrete suggestions for what they could do to realize the 17 SDGs in lively exchanges.
In Introduction to Development Studies JA, students learn about the Sustainable Development Goals (SDGs), adopted by the United Nations in 2015, and the basic concepts and ideas for their implementation. In this class, participants used the brainstorming method of world café, which was adopted by the SDGs, to have group discussions. World cafe is not a meeting room but an idea-generating method in which a group of 4 to 5 can gather to talk in a café freely and share ideas. Based on the concept of cross-pollination, the method encourages the creation of new ideas by shuffling group members on the way and exchanging opinions.
In the class, APU students broke out into groups mixed with high schoolers, President Komaki and her staff, Oita Prefectural officials, and high school teachers to discuss the theme. At the end, the students applauded the class, saying, "It was fun."
After the class ended, Sanrio's President Komaki stated, "I was surprised by the students' level of awareness of these issues. Everyone was thinking about the world or Japan and not themselves. They think everyday about what they can contribute." She also gave this message to students: "My motto is 'Learn greedily.' I think this saying sums up everything."
This class will also be held at the College of Sustainability and Tourism, which is currently under construction for the 2023 academic year. Professor Sudo, who was in charge of the event, said, "It is meaningful that this brainstorming was conducted through industry-government-academia collaboration with Oita Prefectural Government and Sanrio Entertainment Co., Ltd. We would like to continue promoting these kinds of collaborations." He added, "In order to think about sustainable development, it is not enough to think about solutions to current social issues. It is necessary to draw a long-term image of the future and think about what should be done now by backcasting from it. In particular, students today are expected to be in a position to formulate the next international goal after the SDGs in the future. I hope that they will become individuals who can envision the future and play an active role in creating it."
©'76, '09, '22 SANRIO