Since its 2017 curriculum, the College of International Management has included Capstone as a compulsory subject for 4th year students of the College of International Management. This class invites guest lecturers from companies to discuss actual issues their companies face. Then, domestic and international students work together to apply their business knowledge they have accumulated in the course of their studies to explore solutions to the issues raised.
For the 2022 spring semester, Fundokin Shoyu Co., Ltd. (Fundokin), a seasoning maker in Oita Prefecture, collaborated with the Capstone course. In the first session of the semester, Fundokin gave a lecture on the business overview and strategy of AFC Co., Ltd., which was established in 2019 with the aim of strategically expanding its ASEAN business. Students gained a deeper understanding of the companies' strategies to expand the sales of traditional Japanese seasonings overseas. At the end of the class, AFC Co., Ltd. announced that the groups would be working on the theme of building a business plan that will achieve annual sales target of 684 million yen by 2030.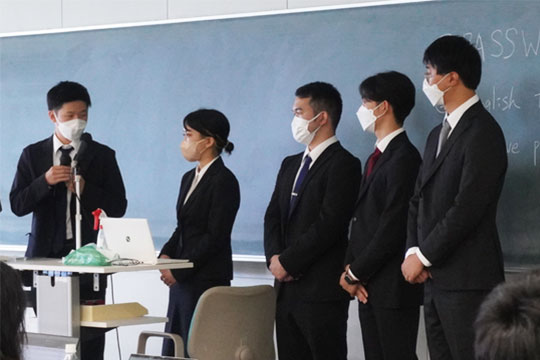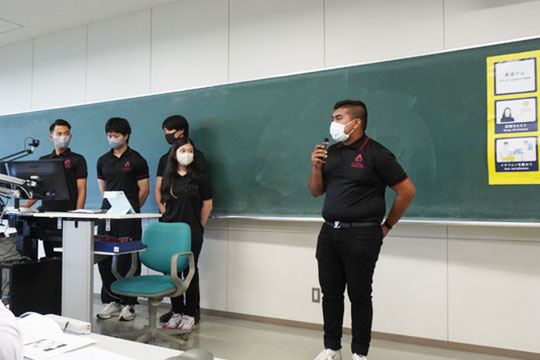 The final class was held on Thursday, July 21, 2022, in which Fundokin representatives, including Takeshi Kotegawa, Director of External Affairs and Director of AFC, as well as four employees from Malaysia participated online. During the presentation, 4 representative teams selected from 2 different Capstone classes announced their respective plans.
The winning team was Judges, who proposed "Yakitori Daisakusen" to spread Fundokin all over Malaysia through yakitori. The Best Speaker Award was given to SAJID Tahmid Bin P. (College of International Management, Bangladesh), who prepared costumes and acted as an excellent guide to liven up the venue.
As a final comment, Kotegawa encouraged the students saying, "I was surprised by all the proposals that exceeded the student level. I learned a lot from them. After studying hard, please enjoy your summer vacation."
The winning team Judges and SAJID were given a set of fundokin soy sauce as souvenirs.