On Friday, September 16, the Fall 2022 Graduation Ceremony took place a total of 511 undergraduate and graduate students representing 46 countries successfully completed their degrees. For the first time in 3 years, the ceremony was held completely in person at B-con Plaza, where the graduates, guardians, faculty, and staff attended to celebrate their new beginnings. Family and friends who could not attend in person were able to join in the celebration online va YouTube and Facebook livestreams.
At the ceremony, President Haruaki Deguchi sent the graduates off with the following message:
To the undergraduate and graduate students completing your degrees today, I congratulate you all. I would like to share three pieces of advice with you as you graduate and step out into the wider world. The first is that I urge you to continue your learning journey throughout your lives. Upon leaving university, René Descartes declared that he would learn "from the great book of the world" from then on. My second word of advice is to continue taking action and challenging yourselves at all times. The reason human society has achieved so much progress is that there are people out there who have continued striving. These people believe that the world won't change unless they take action, even though they also understand the harsh reality that 99% fail trying. I sincerely hope that you will seek to be "change makers" and challenge yourselves continually, without fear of failure. Lastly, I want you to remember that you are now part of a worldwide APU community of more than 20,000 who studied here and are playing active roles around the world today. Whatever you're trying to achieve, the most important thing is to have people to support and guide you. Join us in changing the world together. Let me conclude with the wish that your life from here on is full of happiness. Congratulations once again to each and every one of you.
―――You can read the rest of his message here.―――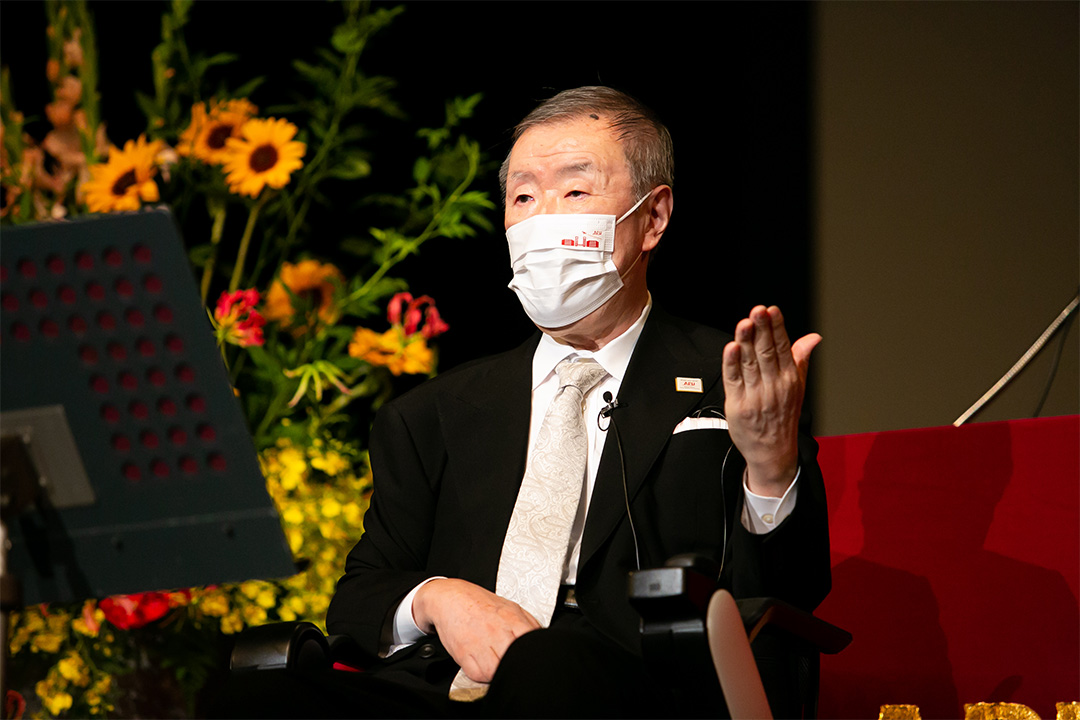 One guest, Morse Caoagas Flores (College of Asia Pacific Studies, Class of 2006), who is a representative of the alumni association and works for the Office of the United Nations High Commissioner for Human Rights, gave the following congratulatory address:
Looking back, I realized APU was the main training ground for my UN career. That initial 6 months engagement with the UN turned into over 17 years. In 2005, I was the only APU alumnus in the UN, today, we are about 30 alumni serving in over 20 UN agencies.
As you move into the real world, I hope that you will stay true with our APU motto: "Shape your World". In doing so, please remember the following:
That the world population has increased from 1 billion in 1800 to 7.9 billion today; where 9% of the world population – 660 million people, are undernourished;
That the world produces more than enough food for everyone but its unequally distributed across the world; that every tenth person in the world lives on less than $1.90 per day & 2.1 billion people do not have access to safe drinking water;
Whether we like or not, this is the real world we are facing. I am delighted to learn that APU operationalizes the UN SDG's central promise of "leaving no one behind" by aligning it to the 2030 Vision of molding students and alumni to pursue freedom and peace. More than ever, global issues such as those mentioned above, need global solutions. Remember, it is only those who leave, who are able to comeback. So, go and make it happen!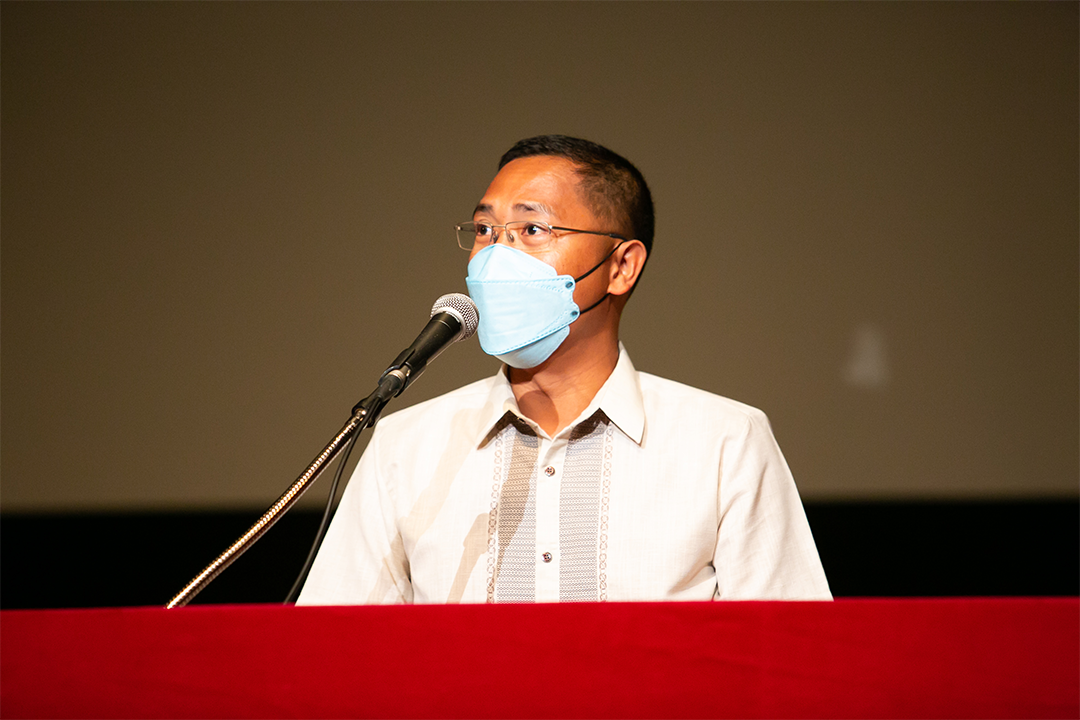 Representing the undergraduate students, this year's Ando Momofuku Award-winner Fathia Fairuza (College of Asia Pacific Studies, Indonesia) reflected on her studies at APU:
Growing up in a small town in Indonesia where opportunities for higher education and global exposure is still lacking, and speaking from my own experience, APU really is a place to Shape Your World. Studying at APU helped me realized my IKIGAI in tackling that issue, which is to become an advocate for the right to education. Because I believe that everyone has EQUAL right to attain quality education, despite their socioeconomic backgrounds. And that is why I established my own organization in 2020, called Shape Your Life Indonesia. I am very grateful that my organization has received one-year period funding by APU as we were chosen as Project B recipient in 2021.
I am happy to share with all of you that I will be the first APU student to enroll at a Masters in Human Rights program at Columbia University in the City of New York. But I will not stop there. As for my path after APU, I aspire to become human rights activist, fighting for the rights of every child to education at UNICEF, as well as at my own organization, Shape Your Life Indonesia. My ambition is to make all Indonesia's youth, especially those who are underprivileged to have their rights to quality education that will make all of us the generation of tomorrow, a future leader of the Asia Pacific.
Our undergraduate study may end today, but it actually opens a new chapter in life. So believe you can, and you're halfway there. Because when you really want something, the entire universe will conspire in order to help you achieve it. Thank you APU, Thank you everyone.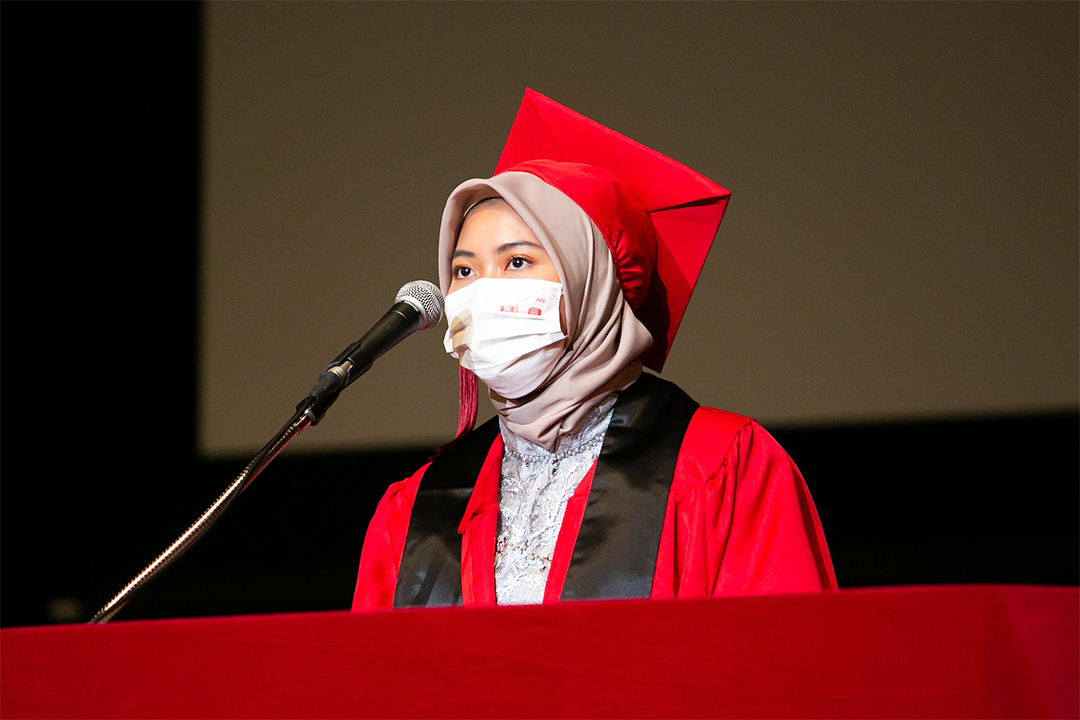 Then, SOUDUNSAARI Minna (Graduate School of Asia Pacific Studies, Finland) took the stage to represent the gradate schools' students. Considering her student life during the pandemic, she state:
The murky waters of the pandemic surely were challenging to navigate but we managed to keep our course. Two years ago, many of us started our studies online with challenging time zone differences. I started mine in Finland and attended lessons at 3 a.m. I quickly started to see midnight snacks and breakfast as the same meal. We felt lost when the pandemic impacted both our academic goals and free time. But when the doubt was overbearing, we felt the warm support from our peers, especially through online chat groups.
Choosing to do even the smallest thing is better than doing nothing. Remember: you adapted your studies to fit a global pandemic. Thus, you do have the skills to adapt again if the future throws you adrift.
Fellow graduates, congratulations! Keep in touch with the friends you have made at APU. And good luck with whatever you are up to! We have not found our limits yet.
The ceremony ended with the traditional cap toss. It was the first time in 3 years that one could see so many flying red caps and so many voices declaring, "We are APU!" The graduates left the venue with smiles on their faces as they set off on the next stage of their journeys.
You can watch the ceremony on APU's official YouTube channel.
https://youtu.be/nGMJqXGaj9s