教育プログラム|連携事業
Feb 17, 2023
In the 2022 fall semester, the College of International Management (Professor Lee Geunhee) held one of its courses, in collaboration with New Balance Japan, Inc (New Balance).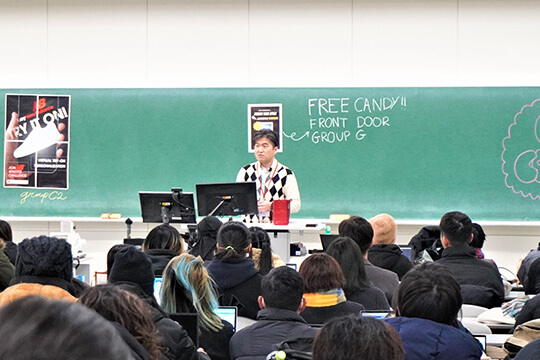 In this class, which was held in English, 230 students learn consumer behavior and effective marketing strategies. This time, New Balance provided the students with issues, such as awareness among Generation Z, best practices for customer satisfaction, and regional marketing strategies. The students then split up into 29 teams to apply the logic and knowledge they have gained thus far to tackle these real business issues and put forth their solution in a presentation.
Mid-semester, Kazunari Yoshimitsu and Takahiro Maekawa from New Balance's Sales Department gave a lecture on the company's brand identity, history, and values and on Thursday, January 26, the last day of class, the students made poster presentations of their strategic plans, which were refined through trial and error. Each presentation was elaborate, and students used their creativity to attract the audience, who walked around the classroom and shared feedback.
The top 4 teams were voted on by the audience (students, company representatives, professor) and presented to the entire class.
Results of the final round:
1st "Collaboration with Pokémon GO" (Alternatively, collaboration with a popular worldwide smartphone game)
2nd "Hire a K-pop artist to increase engagement with Generation Z"
3rd "Develop and market a limited-edition product that captures the unique traditions and culture of Fukuoka through color"
4th "Supporting the lives of university students who are busy with schoolwork, part-time jobs, and socializing from the bottom up and promoting their independence"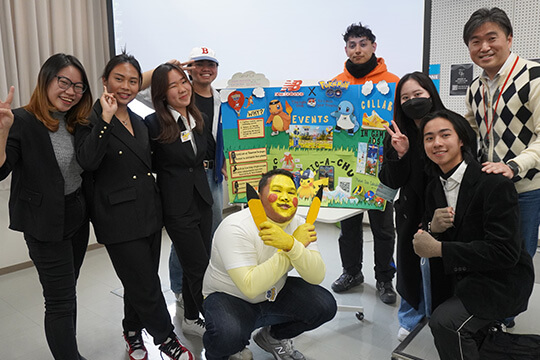 After the 4 groups presented, Yoshimitsu and Maekawa stated "We were delighted by the analyses and new ideas, which motived us even more than we expected." In the end, the top 3 teams were announced and are to receive New Balance goods as prizes.