教育プログラム|学生生活|連携事業
Mar 2, 2023
In the Global Management (Capstone) subject, a required subject for fourth-year College of International Management (APM) students, guest lecturers are invited from companies to discuss actual issues their companies face, and domestic and international students work together to apply the management knowledge they have accumulated during their studies to explore solutions to the issues raised. APM encourages systematic learning in its curriculum, and the Capstone serves as the culmination of four years of study.
In the fall 2022 semester, ORIX Bank Corporation (hereafter, ORIX Bank) cooperated with the course. On Thursday, October 20, 2022, President Yuichi Nishigori visited the 3rd class of the semester. He, along with other representatives, explained ORIX Bank's business model and issues and presented the groups with the challenge to create an idea that would bring an ROA of 1% and 30 billion yen in profits.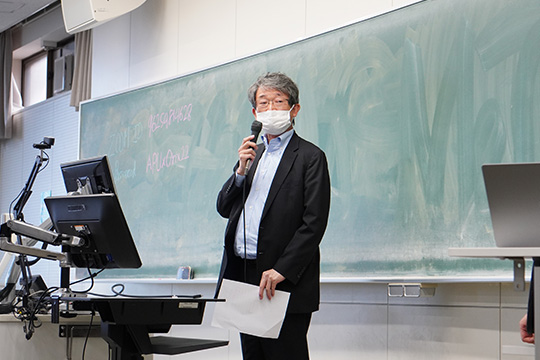 Students worked on solving this issue in groups, and on Thursday, January 26, 2023, final presentations were held. In this final round, 2 teams from 2 different classes of the same course proposed their ideas in front of ORIX Bank's President and other representatives.
In the end, team ODYSSEY CONSULTANCY won for its business plan to pair ORIX Bank's existing services with smart agriculture to accomplish the company's goal.
At the conclusion of the class, President "I'm always telling our employees we have to break restraints in our minds. First, we think on what we need to do. Then, we think on what we need to do to break restraints. This kind of order is very important. Today, I'm very happy that all of the presentations were structured reflecting how you proceed to your conclusion. Thank you very much." The winning team was presented with Suginoi Hotel meal coupons as their prize and was applauded by their fellow students. The course ended with a big round of applause, praising everyone for their hard work over the past four months.