What do you want to learn? Where do you want to go? How intensively do you want to study?
APU has the programs to meet your needs!
APU students live and study in a multicultural and multilingual environment, and they put the knowledge and skills they learn into practice in real world situations. At APU, this practical learning style is called Active Learning. APU encourages students to participate proactively in a variety of learning programs so they can develop the expertise and practical skills they need to succeed in the global arena.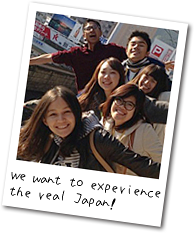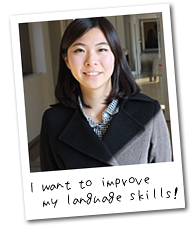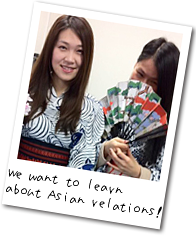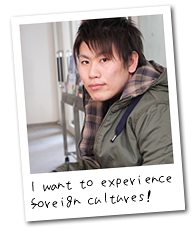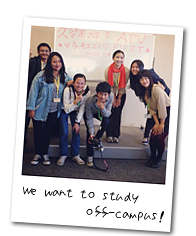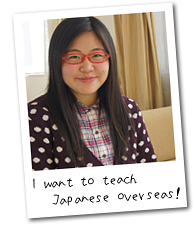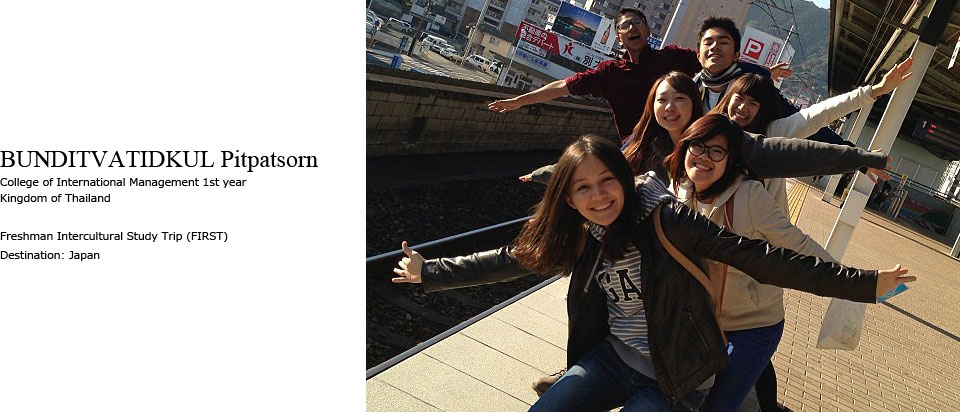 At first, I thought the FIRST Program would be a good way to for me learn more about research, but I have learned so much more than that, especially about teamwork. In the past, I did not like group work. However, this group was different. Everyone worked eagerly and supported each other like a family.
On the day of our field research, we tried to finish the work as efficiently as we could so we would have time for bonding. Sadly, we could not. Later that night, we discussed our progress and were unhappy with the results. Instead of giving up, we all cheered each other up and said, "There is nothing we cannot do without each other!" With everyone's support and positive attitudes, my energy level shot up. I never felt alone even on gloomy days. We always had each other's shoulders to lean on when we needed them.

This experience has taught me that a successful team does not accomplish tasks by relying on one person, but by having everyone pool their efforts, strive to understand each other and share knowledge.
Now I fully understand what the words 'teamwork' and 'friendship' mean, and I have learned how to apply these skills to my studies at APU, real-life situations and, of course, my future!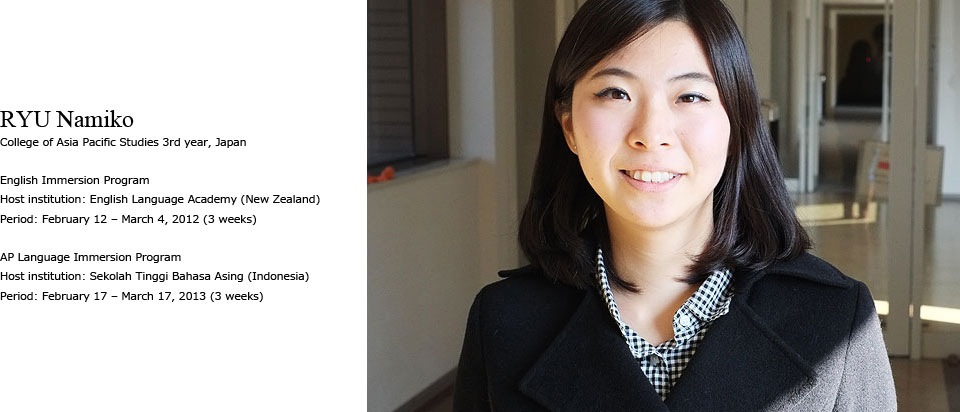 I experienced many things in an all-English environment

After coming to APU, I thought I would like to learn English overseas, so at the end of my freshman year, I joined a Language Immersion Program. I chose the speaking class.

I did a homestay, but I wasn't able to enjoy conversation with my family at first because I was too concerned about speaking proper English. But after a playing with their children and having dinner with the family for a while, communicating in English became natural.

I went to school by bus, but some of the stops had no shelters so I had to be careful to remember where to get off. On my days off, I explored the surrounding area and visited art museums. I also went to barbecues sponsored by the school and meet-and-greets with local university students. I still keep in touch with all of the friends I made.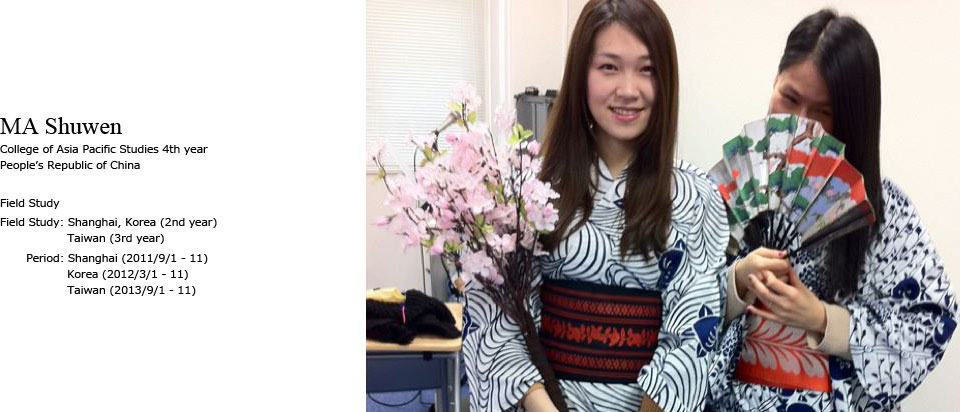 I experienced the tension between the two Koreas and the historical significance of the border area first-hand

I have participated in field studies in Shanghai, Korea and Taiwan, and all of the sites we went to were places that I had wanted to visit as a student of international relations in Asia. These programs were led by Associate Professor CHEN Ching-Chang, an expert in international relations and security issues, so I did not hesitate to enroll.

During the program, we went to local universities to learn about Korean history, inter-Korean relations, territorial disputes and the political strategies of Japan, Korea and China. We went to the Japanese embassy to talk to officials about the history of friendly relations between Japan and Korea, and we visited several historical sites. We also had the invaluable opportunity to visit the demilitarized zone, where the tension between North and South Korea was palpable.

Using what we learned to play a political strategy game

One of the best parts of the field study was the political strategy game. We created mixed groups of Field Study participants and local university students and engaged in discussions in which we each played the role of a representative of a country other than our home nation. The game took up an entire day, and we prepared for the discussions by studying the positions of the various countries. We read materials and did our own research before the program started in order to learn about the political, economic and environmental issues that the host country and surrounding countries were facing.
I think this preparation was the key to good teamwork. I made some mistakes, but I felt a great sense of achievement by persevering until the end.


I made great memories

Visiting museums was also part of the program. These visits as well as trying local food and shopping in local markets afforded me some enjoyable memories. Before the Korea trip, we only had a short time to prepare, so my only regret is that I didn't study as much Korean as I wanted to.


What Field Study taught me about myself

By joining field studies in three different parts of Asia, I was able to learn and experience many things in the flesh. I realized that I would like a career in which I can help the people of Asia lead stable, happy lives. My current interests lie in the fields of education, childcare and service, and my dream is to open a kindergarten one day.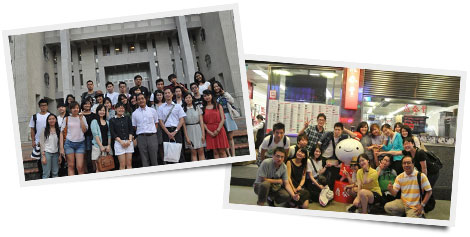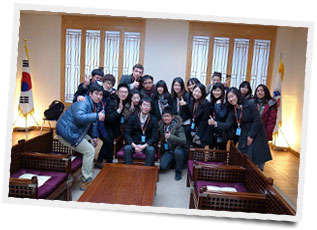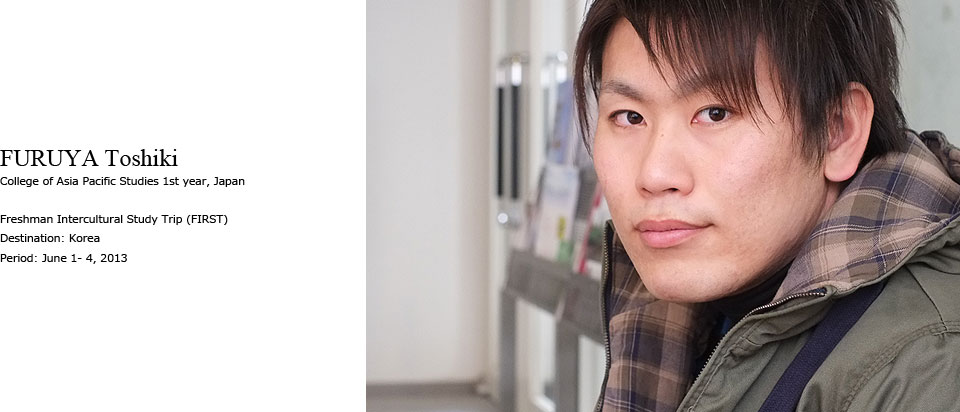 FIRST: My first trip overseas

Until coming to APU, I had never left Japan. FIRST appealed to me because I had an interest in Korea, Japan's closest neighbor, and the program allowed me to experience a foreign culture on a short trip. FIRST is grounded in group work. As a group leader, I worked to create a sense of camaraderie with the other members by organizing Korean and English study sessions and having meals with them before departure.


Choosing our destination by drawing straws

On the first day of the program, we drew straws in Seoul to determine our ultimate destination. Using the Korean we learned in the pre-program lectures, our six-person group set out for its goal. At our target site, we surveyed local people to ask them about the differences between Japanese and Korean values, a topic we set before departure. Every night, we held discussions to reflect on the day's activities, and on the final day, we returned to Seoul.

I learned the importance of seeing things with your own eyes

At first, I was nervous because I was not used to the language. Our trip coincided with a demonstration about the Takeshima/Dokdo islands dispute, so I was a little concerned. When I talked to the local people, however, I realized that the situation on the ground differed from the one-sided information disseminated by the Japanese media. When we asked people to fill out our surveys, some of them refused because we were Japanese, but others kindly agreed to our request and urged us to do our best. I learned the importance of seeing something for yourself, instead of just relying on one-dimensional news reports, before passing judgment.
Also, serving as the group leader was a growth experience. I developed a sense of responsibility and empathy for those group members who got depressed when someone refused to do our survey and those who had trouble speaking their mind because I was always thinking of ways to support them.

My dream is to work in tourism

I grew up in the tourist town of Beppu, so my dream is to work in the tourism industry. On the weekends, I work part-time at a Japanese inn to learn about the business first-hand. I also plan to study tourism and hospitality at APU. By joining FIRST, I learned that taking chances opens up doors, even if you are uncertain at first. I intend to spend the rest of my time at university seeking out new challenges.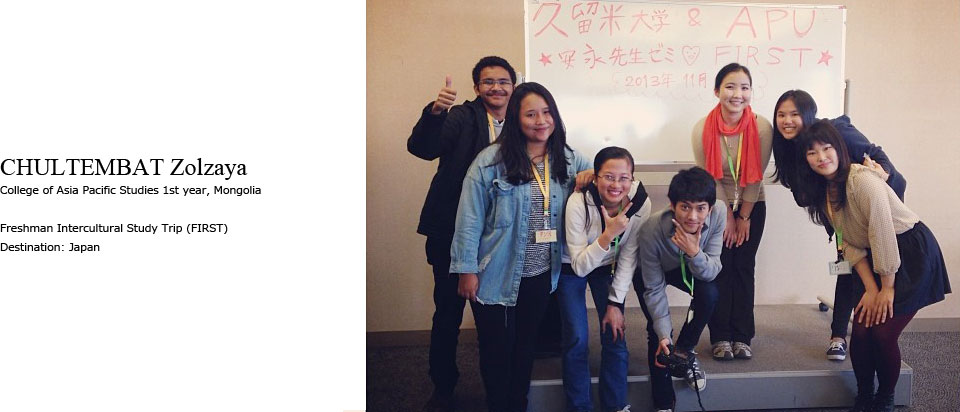 The FIRST Program was a good initial step to get me out of my comfort zone and discover Japan first-hand. During the four days of field research and two months of pre- and post-session classes, I was able to improve my Japanese language skills and develop the ability to work collaboratively. I value the obstacles, culture shock and challenges that I had to overcome as substantial lessons for my future.

I decided to attend this program for the chance to broaden my perspective by working with different types of people. My team was passionate about the topic we chose, and I had to stand up and speak out to make my opinions known. At the same time, it was also important to listen to and respect each member's thoughts. Since we were travelling in a group, we always had to stick together. Even though we had some disagreements, having meetings every night to reflect on the day and plan for the next day was an effective way to solve our problems. Speaking from my own experience, working in a team requires each member to take responsibility for his or her own duties while taking the group's overall progress into consideration. On the other hand, there is always someone to support you and cheer you up when you are having trouble. The FIRST Program not only taught me how to work with others, it was also a great chance to make new friends.

Even though the program only lasted four days, it dramatically affected the way I view Japanese people, including their mindset and lifestyle. I believe the help I received from my supportive group mates and an outstanding TA made this trip much easier and more productive. All in all, I am elated to have been given a chance to work with such great people and to learn by discovering new things on my own. I hope I can put the skills I have gained from this program into practice in both my academic pursuits and personal life.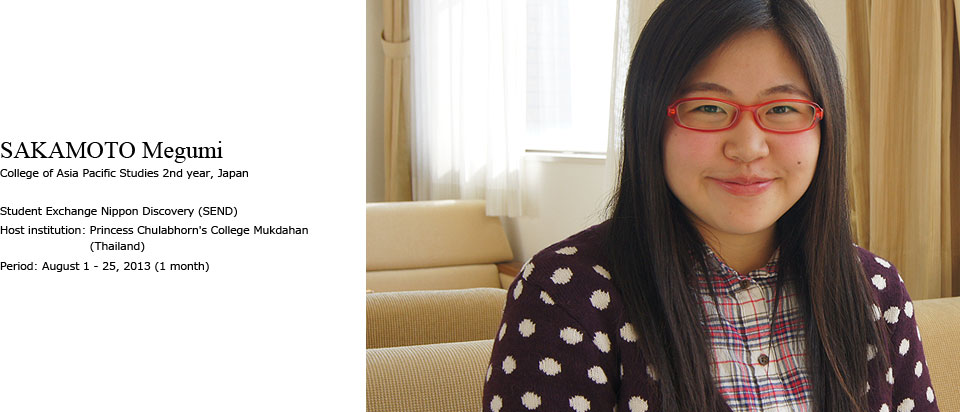 I want to be a Japanese teacher.
This program showed me what it's like to teach overseas.
I have always dreamed of becoming a Japanese teacher. I wanted to go overseas to see how Japanese was being taught in high schools, so the SEND Program, an internship in which you introduce Japanese culture and assist in teaching Japanese at foreign schools, was very appealing to me. However, only one APU student can be sent to each school, so I was motivated to test my limits.


I learned that it takes everyone to make a class work.
I interned at a combined junior-senior high school where I taught Japanese and Japanese culture to a group of 20 students from all grade levels. In addition to teaching greetings, numbers and colors, I had planned to introduce Japanese culture with tea ceremony, origami, calligraphy and yukata-wearing, but I was surprised to find out that the students already knew a great deal about Japan. I felt that I should have studied more about Japanese subcultures, like manga and anime, instead of just preparing lessons on traditional culture.

qNot all of the junior high school students could speak English, so one of the high school students interpreted into Thai for me. I did everything on my own, from preparations to classroom management, and it was hard because it was my first time. I was only able to complete the program with everyone's help. This taught me that a lecture requires the cooperation of every single student to be successful. I also worked as a Teaching Assistant in the English classes. I helped the teacher in the classroom and corrected homework assignments.

Experiencing a foreign culture first-hand

I stayed in the same dormitory as the students, but on the weekends, I did homestays at the teachers' homes. At 6:00 every morning, we made offerings to the Buddhist monks and went to the temple. Thai cities are full of Buddhist temples, and our school even had a statue of the Buddha. I learned that many Thais are fervent Buddhists. One other time, I went to a futsal match with my students. Their passionate cheering was just like that of Japanese high school students. In this way, I was able to experience Thai culture first-hand, something I could not have done in the classroom alone.


Using APU's unique environment to fulfill my dream

After the program, I decided to start teaching Japanese to international students to help fulfill my dream of becoming a teacher. The unique international environment at APU makes this possible. I want to keep studying my own language and culture, of course, but I also want to learn about other cultures because I think I might be able to learn something new about Japanese culture by comparing it to other cultures.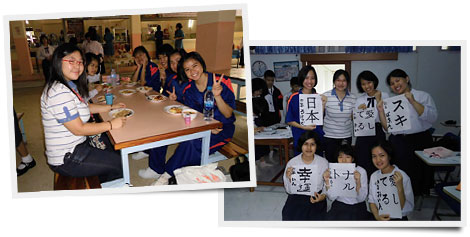 University support for future exchange students

APU has put in place a comprehensive support system to help students get the very best out of their study experience. Through encouraging tailored advice for students from our faculty members and mutual learning between students, the support system continues to enjoy positive results.