教育プログラム|学生生活
Jun 18, 2013
From Saturday, June 1, until Tuesday, June 4, 2013, the Freshman Intercultural Relations Study Trip (FIRST) Program was held. This year 152 APU domestic students participated in this study program to Korea.Leading up to departure, the students selected and prepared their research topics, studied the Korean language with the help of Korean teaching assistants (TAs), and prepared to put everything into practice when they arrived in Korea.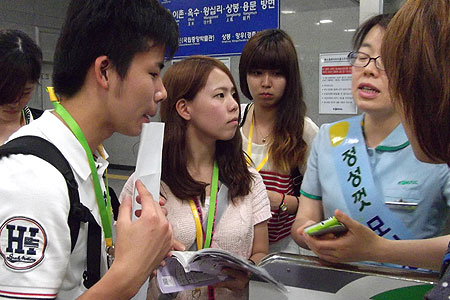 In order to navigate their way to their different destinations around Korea – decided by drawing straws – participants had to work hard and bravely put everything they had learnt into practice. Through an impromptu mixture of Korean, English and hand gestures, participants interacted with the locals and carried out research based on a theme decided prior to their departure. In this way, participants learnt how to make decisions and take action with a sense of responsibility in a different cultural environment.
OKA Momoka (College of Asia Pacific Studies, Year 1, Japan) took part in the FIRST Program and made the following comment: "Occasionally people would refuse to complete our questionnaire, but our team managed to complete the task by all working together. This experience taught me the importance of positively taking on challenges, even those that we think might be impossible. It also taught me just how important it is to learn another language". NAGARE Mio (APM1, Japan) also shared her impressions of the program: "I took part in this program with the intention of paying greater respect to other people's opinions and not just focusing on my own. By accepting different opinions, I made new discoveries and expanded my outlook".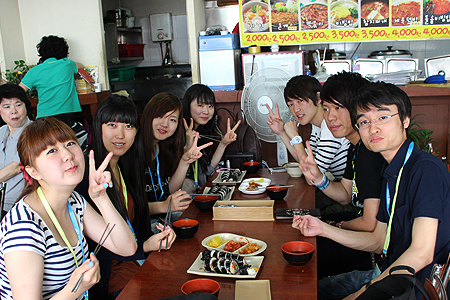 APU has developed a range of "Active Learning" programs that encourage students to engage in practical and hands-on learning experiences. One such program, the FIRST Program, is held for APU new-entrants and is designed to encourage students to deepen their understanding of different cultures, raise students' communication skills, and help students develop goals for their time at APU.
More information on:
Freshman Intercultural Relations Study Trip (FIRST) Program
https://www.apu.ac.jp/home/exchange/content17/
APU exchange and study abroad programs
https://www.apu.ac.jp/home/exchange/content16/