From Saturday, May 31, until Tuesday, June 3, 2014, the Freshman Intercultural Relations Study Trip (FIRST) Program was held. This year 156 APU domestic students participated in this study program to Korea.Leading up to departure, the students selected and prepared their research topics, studied the Korean language with the help of Korean teaching assistants (TAs), and prepared to put everything into practice when they arrived in Korea.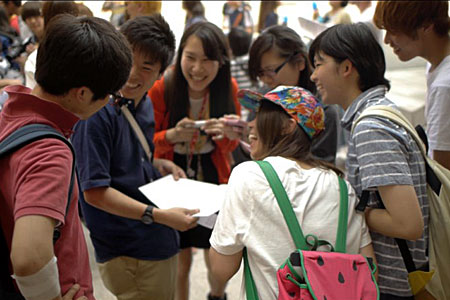 In order to navigate their way to their different destinations around Korea – decided by drawing straws – participants had to work hard and bravely put everything they had learnt into practice. Through an impromptu mixture of Korean, English and hand gestures, participants interacted with the locals and carried out research based on a theme decided prior to their departure. In this way, participants learnt how to make decisions and take action with a sense of responsibility in a different cultural environment.On the final day, program students visited student exchange partner universities and other schools and engaged in discussions with local students.
We asked two students to offer their impressions of the FIRST Program. WATANABE Yuzuki (College of Asia Pacific Studies) said, "We could not communicate or read the language, so we had to rely on our basic instincts. At first, things did not go very well, but we helped each other and somehow managed to complete the program despite some challenging situations. I think this experience will give me confidence in my future endeavors." SHIN Mahiro (College of Asia Pacific Studies) remarked, "I used simple words, gestures and facial expressions to try to communicate with the local students, and amazingly they understood me. We were able to interact at a much deeper level than I ever imagined. Interacting with local people through surveys and other means made me realize there are many different kinds of people in Korea. I learned first-hand that people 'are who they are' and should not be judged based on stereotypes or preconceived notions."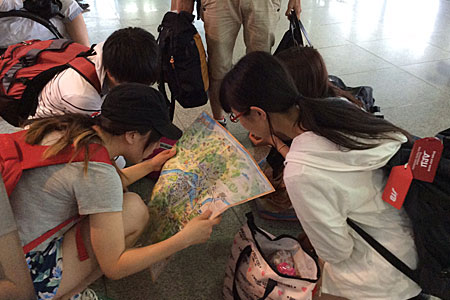 APU has developed a range of "Active Learning" programs that encourage students to engage in practical and hands-on learning experiences. One such program, the FIRST Program, is held for APU new-entrants and is designed to encourage students to deepen their understanding of different cultures, raise students' communication skills, and help students develop goals for their time at APU.
Related links:
FIRST Program Outline
APU Exchange and Study Abroad Programs