On Wednesday, December 3, 2014, the AY2014 Fall Semester Award and Scholarship Conferral Ceremony was held at APU. A total of 41 students with outstanding academic performance in the 2014 spring semester were recognized, including four recipients of the ANDO Momofuku Award*¹.
After President KORENAGA praised the students for their achievements, he presented one of the ANDO Momofuku Award recipients with a certificate on behalf of all of the award winners. Next, Dean of the College of Asia Pacific Studies PISHVA and Dean of the College of International Management YOKOYAMA presented certificates to the respective APS and APM student representatives on behalf of the Academic Merit Scholarship and Academic Merit Certificate winners and congratulated them on their achievements.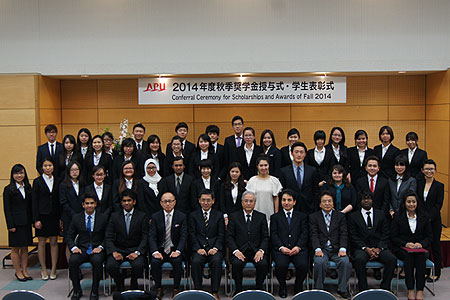 In her speech as the representative of ANDO Momofuku Award winners, KANSAKAR Aishwarya (APM3, Nepal) discussed her aspirations on behalf of the other winners by saying, "Having done numerous volunteer activities in Nepal since the mere age of 9 I have always believed that we are the change we want to be. Currently I am working as an RA at AP House for the past one and a half years. Although it was tough to work with other students from different cultural backgrounds, I have gained my leadership experience though the events and activities in the AP House. With the same value of society-building that I learn at APU every single day with such experiences, I want to become a social entrepreneur in the future to empower the women in Nepal with my enterprise.
She continued: "We often say that it would be very nice if someone solved the problem. But what if we take the initiative what if we become the change we want to see around us: we become the solution. APU provides us with great opportunities to do exactly that for which I am greatly thank full to APU. I hope, in the future, that APU's motto of freedom, peace and humanity is taken to all of our home countries. So let us all shape our world because we are the future."
The ANDO Momofuku Award
*The ANDO Momofuku Award was founded through the late ANDO Momofuku, the founder of Nissin Food Products Co., Ltd. and holder of an Honorary Doctorate from Ritsumeikan University, to encourage and support students who have outstanding academic results, are of good character, and have played a leading role in various activities.
<AY2014 Fall Scholarship Winners>
ANDO Momofuku Award
KANSAKAR Aishwarya(College of International Management (APM)3, Federal Democratic Republic of Nepal)
VIJAYAN Swathinath(APM3, India)
ASWIN Pushparaja(College of Asia Pacific Studies (APS), Democratic Socialist Republic of Sri Lanka)
HATURUSINHA Y. N.(APM2, Democratic Socialist Republic of Sri Lanka)
Academic Merit Scholarship

NGUYEN Nhu Ngoc (APS4, Socialist Republic of Viet Nam)

VANESSA Arninda S. (APM4, Republic of Indonesia)
PHAM Phuong Mai (APS4, Socialist Republic of Viet Nam)

USOMBATCHAI Veeraya (APM4, Kingdom of Thailand)

NGUYEN Thi Yen Nga (APS4, Socialist Republic of Viet Nam)
LI Zhuo(APM4, People's Republic of China)

CHEN Jing (APS4, People's Republic of China)
LAMICHHANE Suresh P.(APM4, Federal Democratic Republic of Nepal)
APPELBAUM Sophia R. (APS3, United States of America)
SONG Liuru (APM4, People's Republic of China)
HIR0ISHI MINORI (APS3, Japan)
HUYNH Vu Hong Vy (APM4, Socialist Republic of Viet Nam)
SHIN Dong Uk (APS3, Republic of Korea)
XU Mengning (APM4, People's Republic of China)
ANDARINI Sertianti (APS3, Republic of Indonesia)
NGUYEN Xuan Huong T. (APM3, Socialist Republic of Viet Nam)
NGUYEN Ngoc Yen(APS3, Socialist Republic of Viet Nam)
AIMPICHAIMONGKOL S. (APM3, Kingdom of Thailand)
HALILOVA Umida (APS2, Republic of Uzbekistan)
PHAN Nguyen Mai Chi (APM3, Socialist Republic of Viet Nam)
ITAYAMA RANA (APS2, Japan)
NGUYEN Le Bao Vy (APM3, Socialist Republic of Viet Nam)
TAGUCHI MAI (APS2, Japan)
HAN Yuancao (APM3, Kingdom of Thailand)
KATO TOMOKO (APS, Japana)
DIMITRI Jap Maan T. (APM2, Malaysia)
HAGIWARA MINAMI (APS2, Japan)
NGUYEN Mai Anh (APM2, Socialist Republic of Viet Nam)
PHAM Mai Huong (APS2, Socialist Republic of Viet Nam)
DENNIS Sutejo (APM2, Republic of Indonesia)
NGUYEN Hoang Duy P. (APM4, Socialist Republic of Viet Nam)
DUONG Bao Thi Anh (APM2, Socialist Republic of Viet Nam)
Academic Merit Certificate
LE Cong Tuan Anh (APS3, Socialist Republic of Viet Nam)
CAO Vu Quynh Anh (APS2, Socialist Republic of Viet Nam)
NGUYEN Thuy Linh (APS2, Socialist Republic of Viet Nam)
TRAN Hieu Han (APS2, Socialist Republic of Viet Nam)
NGUYEN Thi Tu Oanh(APS2, Socialist Republic of Viet Nam)
KONISHI KAZUFUMI (APM3, Japan)
TAKITA SHUMA (APM2, Japan)
DO Ky Lam (APM2, Socialist Republic of Viet Nam)
BUI Khanh Huyen (APM2, Socialist Republic of Viet Nam)