The APU 2015 Fall Graduation Ceremony was held on Friday, September 11, 2015. A total of 405 students, consisting of 322 international students and 83 domestic students from 33 countries and regions, including undergraduate, Masters, and PhD students, successfully graduated. Friends and family members gathered from around the world at B-Con Plaza in Beppu to celebrate the graduating students as they prepare to take what they have learned at APU to the next stage of their lives.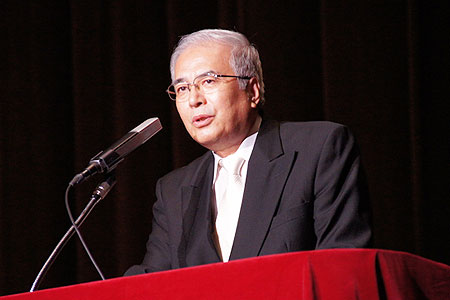 APU President KORENAGA Shun congratulated the graduates and offered words of encouragement. In his greeting, APU President KORENAGA Shun touched on the APU2030 Vision that the university formulated last year after multiple discussions with students, alumni, faculty and staff. After that, he told the graduating class that APU students can learn by seeing how alumni work. He also told how APU can draw closer to its bold vision, which proclaims that "APU graduates possess the power to change our world," as it goes about developing cooperative relationships and networks with alumni. Finally, he closed with a message of encouragement for the graduating class.
Graduates representing the undergraduate and graduate schools, each gave their own speeches and bid a farewell to their lives as students.
AKRAMOV Akbarjon (College of International Management, Uzbekistan), recipient of this year's ANDO Momofuku Honor Prize, represented the undergraduate students at the ceremony in thanking and honoring the graduates: "My dream is making the world better place to live through the power of Business. Combination of management and leadership skills I learnt at APU made my dream very realistic. I would like to accomplish this mission by working at one of the largest general trading companies in Japan. By taking part in creation of new businesses which improves lives of millions of people, I would like to play an active role as a global leader who ultimately contributes to the vision of APU which is humanity, international mutual understanding, and the future shape of the Asia Pacific region.
Once we finish our APU life all of us go into various directions. Some of us go to graduate school, some of us work in Japan or our home country. From today, what connects us is our memories and friendship we built at APU. I hope we can meet sometimes in the future as more mature and independent people."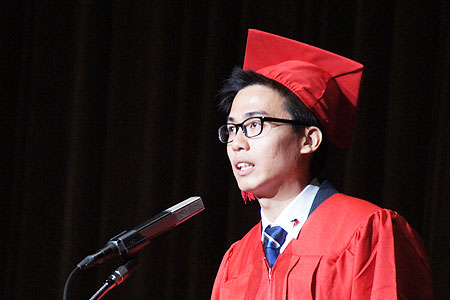 Representing the Graduate School, EVANGELISTA Miguel Felipe Lim Cotay (Graduate School of Management, the Philippines) also addressed the audience "The two years I spent at APU as a graduate student have provided me with a lot of unforgettable experiences, experiences worth sharing and remembering. With regards to my academic life, I dealt with a lot of numbers and had to juggle concepts related to accounting, investments, statistics, and economics in my head. Our professors pushed us to the limit. Still, my classmates and I accepted the challenge as one cohesive team. Each of us offered and received help from each other.
My dear fellow graduates, it is now time to go down from the mountain we called home for two, three or four years. During those years, we shaped our world by studying hard, joining events and activities, and taking some risks. We are now ready to face life's next challenges. More importantly, we are also ready to take on bigger challenges faced by society like hunger, unemployment, and environmental destruction, to name a few. Let's continue shaping our world and begin shaping the world. "
After the ceremony, each graduate was awarded with a diploma and the joy of the moment was captured in their beaming smiles. All of the graduates then gathered together to toss their red caps in the air to the chant of "We are APU" which was met with thunderous applause. The freshly minted graduates left the ceremony in a joyous rush - each one eager to start out on their new life journey.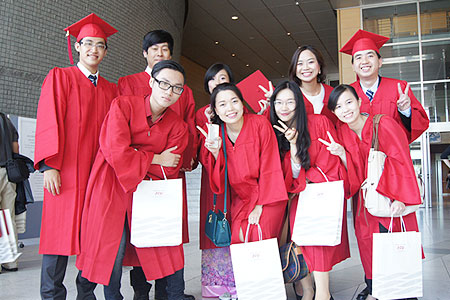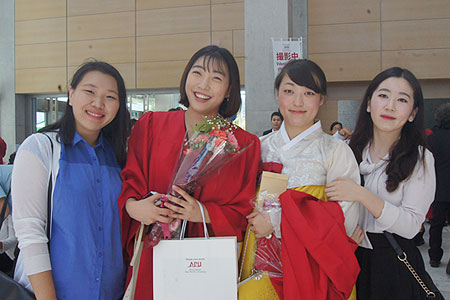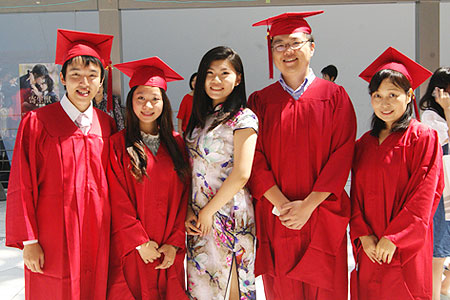 The Fall 2015 Number of Degree Granted Students
Domestic Students
International Students
Total
College of Asia Pacific Studies (APS)
51
79
130
College of International Management (APM)
30
194
224
College Total
81
273
354
Graduate School of Asia Pacific Studies Master's Program(GSAM)
1
36

37

Graduate School of Management(MBA)
0
10

10

Graduate School of Asia Pacific Studies Doctoral Program(GSAD)
1
3

4

Graduate School Total
2
49

51

Total
83

322

405

The graduation ceremony was also broadcast live on the internet via Ustream. Footage can be viewed here.
APU Gallery
https://www.apu.ac.jp/home/gallery/article/?storyid=131