On Wednesday, December 2, 2015, the AY2015 Fall Semester Award and Scholarship Conferral Ceremony was held at APU. A total of 42 students with outstanding academic performance in the 2015 spring semester were recognized, including four recipients of the ANDO Momofuku Award.
After President KORENAGA praised the students for their achievements, he presented one of the ANDO Momofuku Award recipients with a certificate on behalf of all of the award winners. Next, Dean of the College of Asia Pacific Studies TODOROKI Hiroshi and Dean of the College of International Management OTAKE Toshitsugu presented certificates to the respective APS and APM student representatives on behalf of the Academic Merit Scholarship and Academic Merit Certificate winners and congratulated them on their achievements.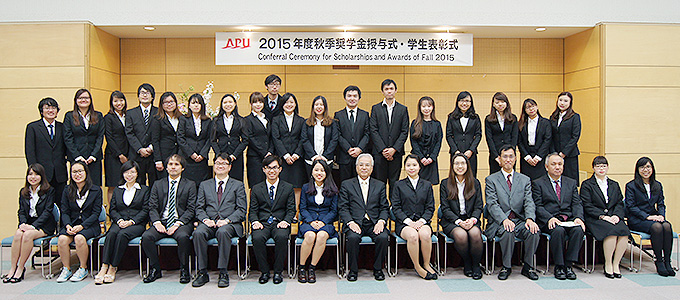 <AY2015 Fall Scholarship Winners>
ANDO Momofuku Award
This scholarship was founded through the generosity of the late Honorary Doctor ANDO Momofuku, the founder of the NISSHIN FOODS Group to encourage and support students who have outstanding academic records, are of good character, and have played a leading role in various activities.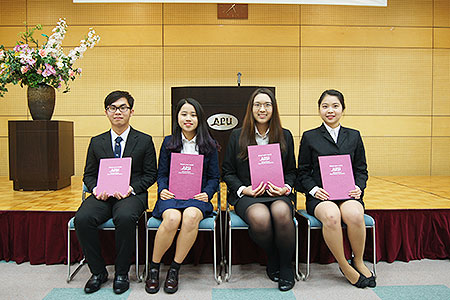 | | | | |
| --- | --- | --- | --- |
| APM5 | DUONG Bao Thi Anh | APM5 | TRAN Thanh Loan |
| APM3 | ISICHAIKUL Pirunnut | APM3 | NGUYEN Van Duc Manh |
Academic Merit Scholarship
This scholarship is to encourage students who have achieved excellent academic results during the 2015 Spring semester.
APM3
GU Haotian
APS3
NGUYEN Mai Phuong
APM3
ISICHAIKUL Pirunnut
APS3
NGUYEN Kieu Anh
APM3
HO Luu Quynh
APS4
ISHIKAWA Mayu
APM3
HU Siyuan
APS5
NGO Ngoc Tuan
APM4
RATANASUWAN Satita
APS5
LAM Ngoc Tram
APM5
DUONG Bao Thi Anh
APS5
VU Thanh Binh
APM5
LEE Chang Yong
APS6
TAKAHASHI Ryoko
APM6
NGUYEN Mai Anh
APS7
LE Thi Ngoc Huyen
APM6
DIMITRI Jap Maan T.
APS7
TANAKA Go
APM7
JIN Chenxi
APS7
NGUYEN Ngoc Yen
APM7
PHAN Nguyen Mai Chi
APM7
HOANG Thi Xuan Anh
APM7
NGUYEN Le Bao Vy
Academic Merit Certificate
This certificate is to encourage students who have achieved the second or third position as academic results during the 2015 Spring semester.
APM4
IMAI Yusaku
APS4
TANAKA Hina
APM4
AKIHA Moyuru
APS4
MURAKAMI Emika
APM5
TRAN Thi Hoang Dung
APS4
FUTONO Mikako
APM6
CHEON Jong Kyeong
APS4
CHINTRAKARN Chalisa
APS3
TRAN Nhat Vy
APS4
SUH Jungwha
APS3
NGUYEN Vu Thao N
APS6
YAMASAKI Yui
APS3
ZHANG Xuanhui
APS6
TSUKAGOSHI Yuta
APS3
YEN Chao-Hsin
*The number preceding the student's name indicates their current semester.