連携事業|講演・シンポジウム|イベント
Jun 13, 2016
The Research Center for Muslim Affairs (RCMA) Special Seminar and RCMA research projects interim reports took place on Wednesday, June 8. The event began with speeches by guests of honor from RCMA's sponsors; Mr. TAKATSUKI Ryosuke, President & CEO, Inspire Corporation and Mr. YAMADA Keiichi, General Manager, International Business Office, Oita Bank. The first half of the event, the special lecture, attracted around 80 audience members from the hotel and restaurant industry in Beppu City. The latter half, the research presentations, attracted around 40 audience members, mostly students and faculty members.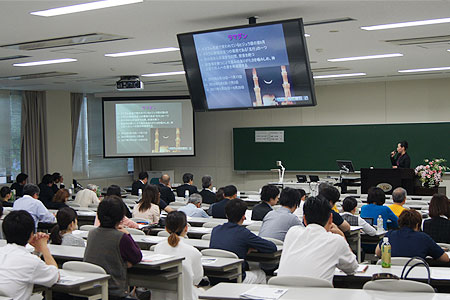 In the first half, Ms. IKEUCHI Shiho (Director, Overseas Marketing, Hotel Granvia Kyoto) delivered a special lecture entitled "Hotel Granvia Kyoto – Halal Service in the Hotel Industry". The Hotel Granvia Kyoto is the first hotel in western Japan to gain the official Local Halal certificate. In the lecture, Ms. IKEUCHI spoke about basic knowledge of halal, expansion into the Islamic market, research on hotel and restaurants in Dubai and Malaysia for understanding Muslim culture, precautions for tourist destinations in Japan, the Muslim-friendly 'omotenashi' service the Hotel Granvia Kyoto provides, and the process for the hotel to obtain the Halal certificate.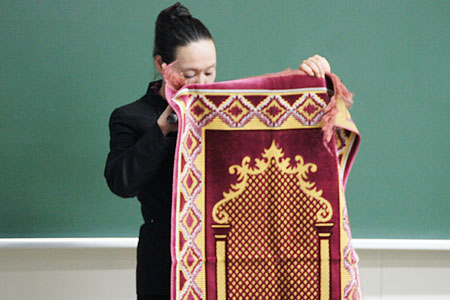 In the latter half, APU faculty members presented interim reports on their Islam-related and/or Muslim-affairs research. Associate Professor TATEYAMA Hirokuni reported on their research "A Study of Support for Schoolchildren with Limited Japanese Language Proficiency", Professor SUZUKI Yasushi reported on "Investigation on Musharaka Credit Risk Management in Indonesian Islamic Banks", Professor BARAI Munim Kumar reported on "Islamic Microfinance as a Tool for Poverty Alleviation: The Case of Bangladesh and Indonesia", and Associate Professor KIM Rebecca ChungHee reported on "Exploration of a Social Enterprising Business Opportunity for the Creation of a Circular Economy through Cooperation with Muslim Society". After each presentation, many questions were asked by the audience. It was a fruitful seminar and a special occasion to deepen understanding about Islam and Muslim people.