教育プログラム|講演・シンポジウム|来学者
Aug 18, 2016
On June 8, 2016, APU hosted the first IMAT-APU International Education Conference. The Master of Material Flow Management (IMAT) program is a dual-degree graduate program in cooperation between APU and the Trier University of Applied Sciences, conducted by the Institute for Applied Material Flow Management (IfaS) in Germany.
Representatives of IMAT partner universities (Germany, Japan, Brazil, Morocco, Mexico and Taiwan), scholars and company representatives in the field of circular economy, IMAT alumni, and APU students joined the conference. Speakers gave thought-provoking presentations on topics including "Integrated Coastal Zone Management towards Sustainable Society"; "Applying Regional Value-added Modeling for Renewable Energy in Japan"; "Recent Topics in Japan's Material Cycle Management Policies"; "Material Flow Management Applications In Improving Water and Food Security: Ideas for Cambodia and Japan"; "Big Challenge in Small Town is Ongoing – How to Realize Resource Circulation in Town Wide" and "Alternative Frameworks for Economic Activities and Environment".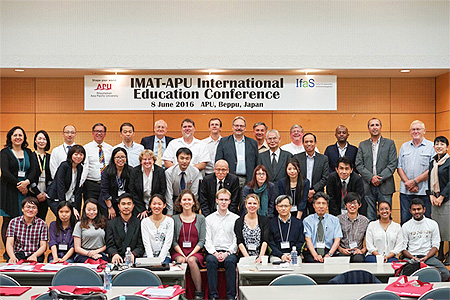 Through presentations and active discussions, the IMAT-APU Conference has provided a platform to strengthen the ties and involvement between partners as well as network opportunities for current APU students, IMAT alumni, domestic and international faculty, and scholars and company representatives in the areas of circular economy and zero emission. Participants also learned about the IMAT Program and the research activities of the partner universities.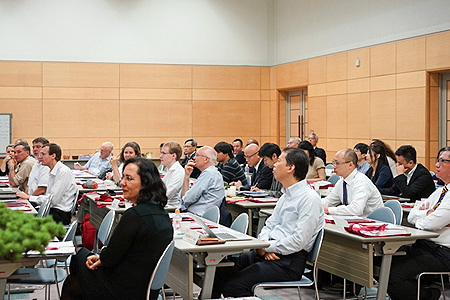 Prior to the IMAT-APU Conference, APU hosted two days of IMAT Networking Meeting events on June 6 and 7, 2016. Representatives of IMAT partner universities discussed details on establishing a global research and education network and further academic cooperation.
The IMAT Program is APU's dual-degree graduate program with the Trier University of Applied Sciences in Germany. IMAT offers multidisciplinary courses to prepare students to become young professionals in the fields of Sustainable Development and Green Business. IMAT students study at APU in their first year and at IfaS in their second year to earn a Master of Science in International Cooperation Policy (APU) and a Master of Engineering in International Material Flow Management (IfaS). To date over 90 students have graduated from IMAT-APU program and in 2015 we commemorated our 10th year of cooperation.
For more information, please see:
https://www.apu.ac.jp/gradinfo/modules/schoolaps/content14/
Please send all inquiries about the IMAT program to IMAT Program Japan at
imat-jpn@apu.ac.jp