On Saturday, April 1, 2017, the Spring Entrance Ceremony was held at B-con Plaza in Beppu City, welcoming 1,014 new students from around the world.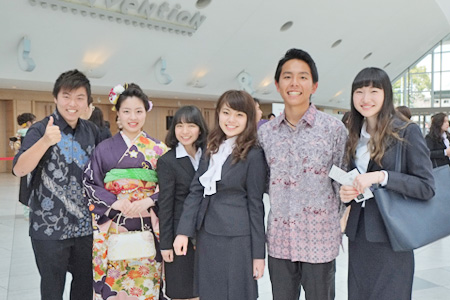 This spring the University welcomes 870 undergraduate students (660 domestic and 210 international), 29 graduate students (4 domestic and 25 international) and 115 short-term and exchange students (29 domestic and 86 international) from 46 countries and regions. (as of March 28, 2017)
President KORENAGA Shun welcomed the new entrants and offered encouragement: "The way to bring about peaceful coexistence in this world is through a spirit of openness to other cultures – a resolute spirit that looks to acquire new kinds of wisdom by overcoming our differences together. That is what defines the true global spirit. [...] The multilingual, multicultural environment of APU, where students from many countries and regions around the world congregate, is the ideal place to foster mutual respect and the spirit of multicultural understanding. A stunning landscape, a comfortable and safe hilltop campus, outstanding education, and a global-mindedness that fosters diversity – take pride in what an ideal spot APU has become. [...] So, be proud. Have confidence. During these next four years, live a joyful and healthful student life. Welcome to APU."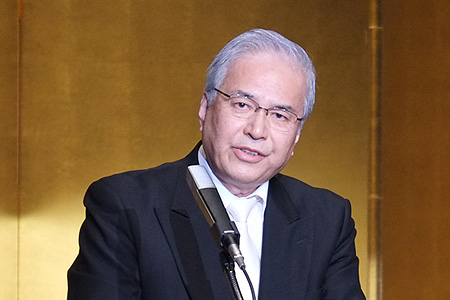 (President Korenaga's full comments can be found here.)
ZHONG Chen (College of Asia Pacific Studies, China) addressed the audience on behalf of current students. HAYASHI Nanako (College of Asia Pacific Studies, Japan) and SIDDIQUE (Graduate School of Management, Bangladesh) then spoke on behalf of the undergraduate and graduate new entrants respectively.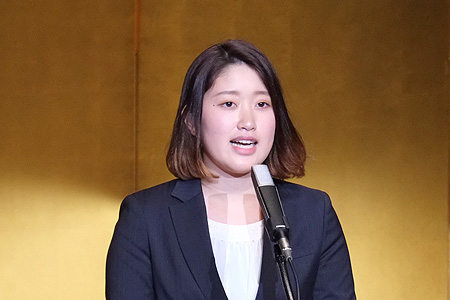 Speaking on behalf of the new undergraduate students, Ms. HAYASHI shared her aspirations for the future: "The next four years will afford us all with an excellent opportunity to grow, but we will have to work hard. No matter how great the campus may be, how much we can achieve will depend on the effort we make. During my time at APU, I plan to make many close friends and try many different things. I would like to volunteer overseas and go on exchange. I want to see the world with my own eyes. I would also like to develop the ability to view Japan through multiple lenses by learning with international students and gaining exposure to many different value systems. There are things you can only learn at APU, and my goal is to put these into practice to realize my dream. [...] Today is the first day of the next stage of our lives. Let's make the most of the chance we have been given."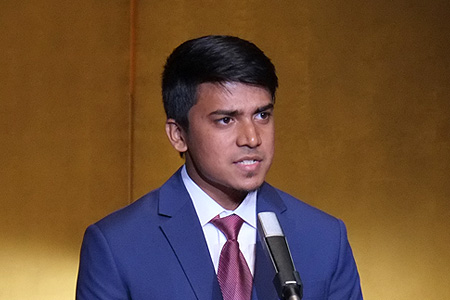 Mr. SIDDIQUE then spoke on behalf of the new entrants to the graduate school: "To me the most notable features of APU's graduate school are its globally-recognized business education and multicultural environment. [...] I am looking forward to obtaining an education that prepares me to take on the challenges I may face, be it in international business or entrepreneurship. An education that is truly case-oriented, focuses on both Japanese and global business models, while also allowing me to gain real world experience working with companies. I hope to be able to say after two years that I have gained the knowledge and experience necessary to embrace the business world. I wish you all the best on the fantastic journey awaiting us here at APU."
Many current students also came along to the ceremony to welcome the new entrants to APU and enjoyed the colorful performances that followed, including a traditional Indonesian dance, Chinese traditional art, a Japanese drum performance, and a Japanese dance performance.
The Entrance Ceremony was also broadcast live on the internet on Facebook and via Ustream. Footage can be viewed at the APU Gallery: The 2017 Spring Entrance Ceremony.