On Monday, September 25, 2017, the Fall Entrance Ceremony was held at B-con Plaza in Beppu City, welcoming 649 new students from around the world.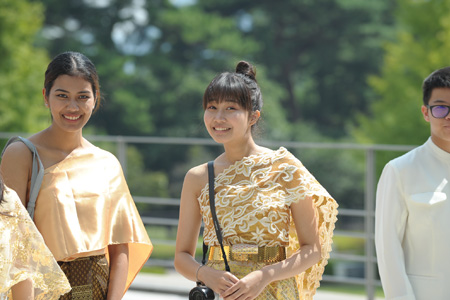 This fall the University welcomes 509 undergraduate students (46 domestic and 463 international), 76 graduate students (3 domestic and 73 international) and 64 short-term and exchange students (6 domestic and 58 international) from 65 countries and regions.
President KORENAGA Shun welcomed the new entrants and offered encouragement: "APU is also notable for its vision calling for the cultivation of global citizens who can leverage our highly diverse multilingual and multicultural campus to generate new value through dialogue and cooperation. The global education we have prepared for you is designed to help you discover and hone your talents. I hope you will all sharpen your respective skills as you carve out the path to your future. Your talent cannot blossom without proper nurturing. I believe each of you have an idea about the kind of person you want to become. It is my hope that you will become people equipped with a sharp intellect, and the ability to engage in the intellectual struggle necessary to discern fact from fiction. Naturally, an ideal like this may be hard to achieve, but envisioning and aiming for such an ideal can clarify your intention to become a better person, and will fill you with a passion for life."
(President Korenaga's full comments can be found here.)
RAFI Rubaiyyat (College of International Management 3rd year, Bangladesh) addressed the audience on behalf of current students. NGUYEN Thanh Mai (College of International Management, Viet Nam) and AIYEDEBINU Abayomi Ezekiel (Graduate School of Asia Pacific Studies, Nigeria) then spoke on behalf of the undergraduate and graduate new entrants respectively.
Speaking on behalf of the new undergraduate students, NGUYEN Thanh Mai shared her aspirations for the future: "We are going to have the most out-of-this-world university life, as we will be living in an extraordinary multicultural environment. We are going to learn to be conceptual thinkers as we are presented with the many facets of the dynamic world of which we were previously ignorant, so that we can use both our skepticism and knowledge to tackle any problem. We are going to become more empathetic after having been exposed to the inevitable differences in opinion regarding politics, religion, philosophy and even economics. We are going to absorb a wealth of knowledge which will be crucial to our futures. What each and every one of us are going to become, as future global citizens, is going to be the greatest gift we are going to take with us when we graduate from APU four years from now."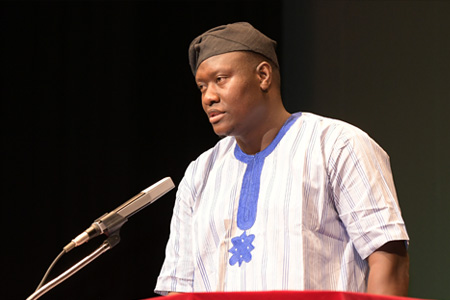 AIYEDEBINU Abayomi Ezekiel then spoke on behalf of the new entrants to the graduate school: "Today is indeed a great day for me and I am sure for all of us. I say so because as a young boy growing up in a small village in Nigeria, never in my wildest dreams did I imagine that one day I would be here in Japan, many miles away from that village, in search of one of the most valuable assets in this world, "education." Today is the next step on the path towards our destinies. [...] I believe and trust that APU is the right place to bring us closer to our goals. Even if we fail the first time, we will try, and try again, until we grasp the destiny that we yearn for. I hope that someday each and every one of us will be able to make an impressive foot print in the sands of time."
Many current students also came along to the ceremony to welcome the new entrants to APU and enjoyed the colorful performances that followed, including a traditional Indonesian dance, Chinese traditional art, a Japanese drum performance, and a Japanese dance performance.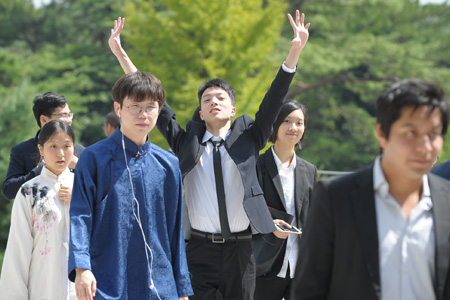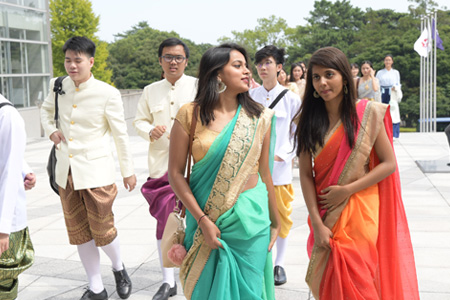 The Entrance Ceremony was also broadcast live on the internet on Facebook Live and Ustream (being August 1, 2018, playback via Ustream is no longer available). Footage can be viewed at the APU Gallery: The 2017 Fall Entrance Ceremony.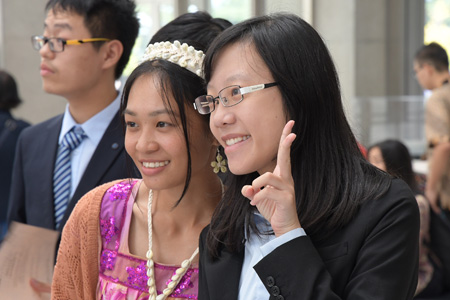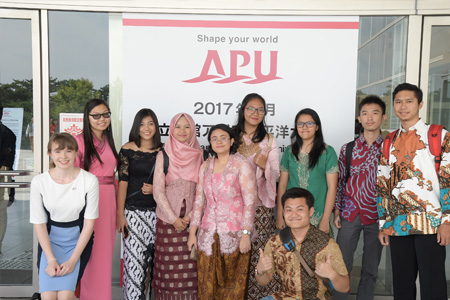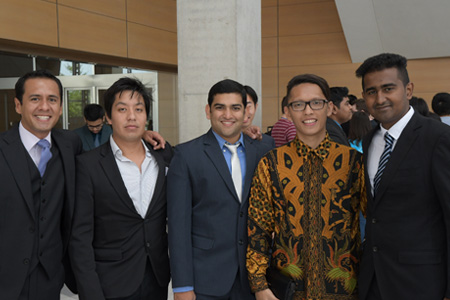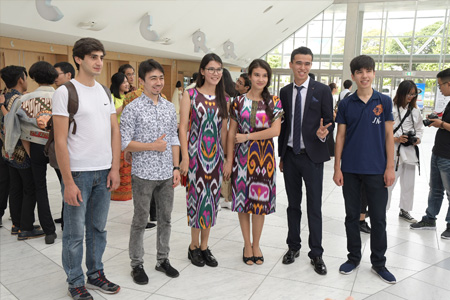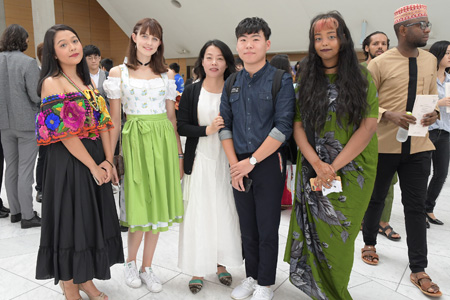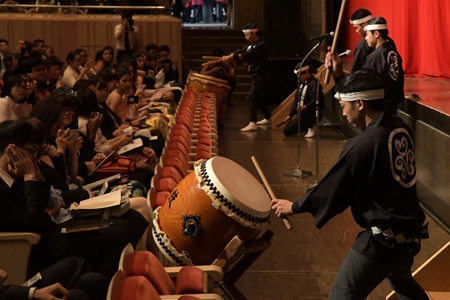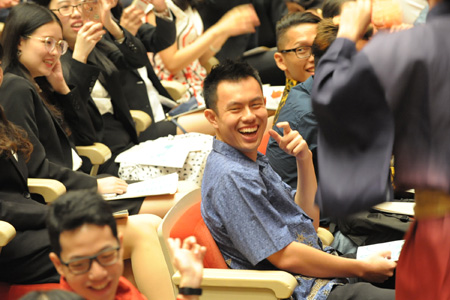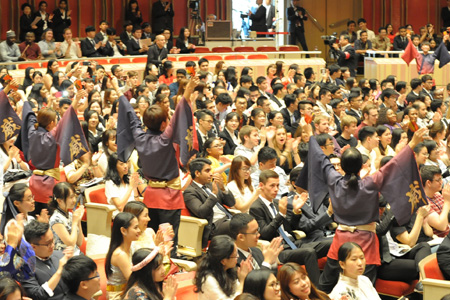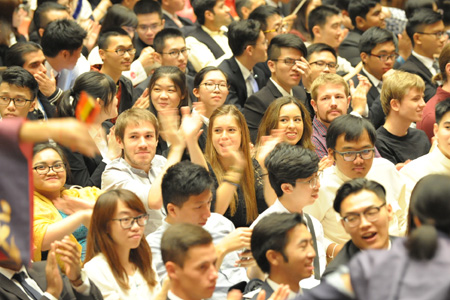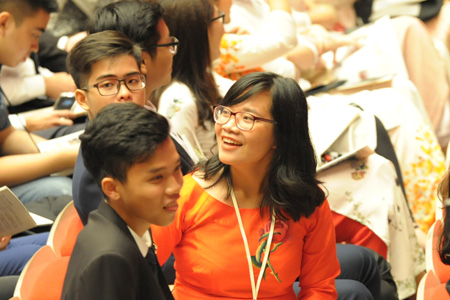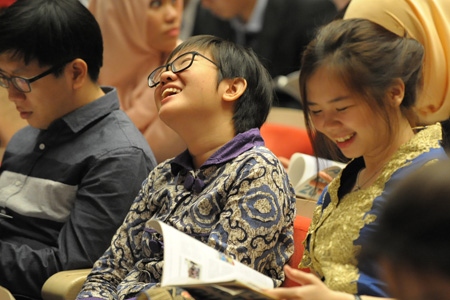 Related Link:

Notes from the President and Vice-Presidents

APU Gallery