The APU 2018 Fall Graduation Ceremony was held on Friday, September 14, 2018. This semester's graduating class has a total of 597 students, consisting of 101 domestic students and 496 international students from 43 countries and regions. Graduates included undergraduate, masters, and PhD students. Friends and family members from around the world gathered at B-Con Plaza in Beppu to celebrate the graduating students as they prepare to take what they have learned at APU to the next stage of their lives.
APU President DEGUCHI Haruaki congratulated the graduates and offered words of encouragement. "I want to begin by congratulating the new graduates, as well as their friends, family, and other guests here today. Today's ceremony celebrates the end of one phase of your life, just as it marks the beginning of the next.
The northern Japanese fishing town of Kessennuma has an event called shussen-okuri, which is held to send off fishing vessels that may sail as far as Africa. Before you step into the world, I would like to send you off with three things to think about. First, understand that never before in the history of Japan has this much importance been placed on internationalization. The first civilization in Japan arose not very far from here, in what is now Kitakyushu. It developed there because they were able to gain iron through trade with the Korean Peninsula. Having iron allowed the ancient Japanese to be much more productive with their agriculture."
(President Deguchi's full comments can be found here.)
GU Haotian (College of International Management, China), recipient of this year's ANDO Momofuku Honor Prize in thanking and honoring the graduates: "I was born in China, listening to the stories and even witnessing first hand how technology such as computers, and smartphones changed people's lives. Changes that would not have occurred without cross-border cooperation between companies inside and outside of China. In order to make more changes like these happen, my dream is to become a cross-border M&A advisor in the Asia-Pacific region. I hope to accelerate the exchange of knowledge, investment, know-how and, more importantly, give everyone in the region equal opportunities. This will be a difficult journey, but with the knowledge, mindset, and connections I have gained at APU, I believe I will achieve my dream, and I believe all of you will achieve yours. We have accomplished a lot at APU. Now, it's time to apply what we have learned to make a positive change in the world."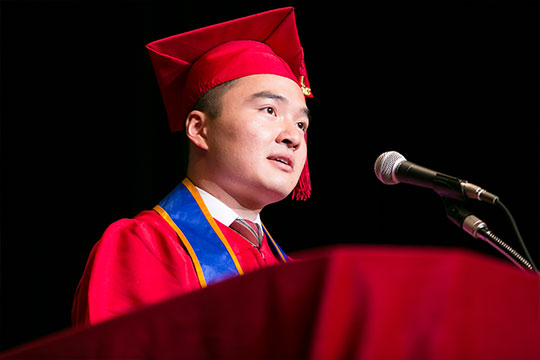 Then the student representative for the Graduate School, KIRSCHNICK Ulrike (Graduate School of Asia Pacific Studies, Germany) gave a few words: "Finally, this is also the occasion to look into the future and to transfer what we learned into our new post-graduate lives. It is our duty and an honor to carry on the spirit of APU to the world and to help to make it a better place. When we should live the change we wish to see in the world, then the change that I wish to see in the world, is that we create a society based on mutual respect and understanding, one of curiosity and tolerance. Thanks to APU and our life together I know now that this is not just a naive vision, but it can be the reality.
So let us remember, that no matter what life will bring next or where we will find ourselves, we can be sure that we have friends that we can count on and that we are united under the idea of humanity. Let us share, let us embrace our diversities, and for now, let us celebrate and make some new memories that will shine through the rest of our lives."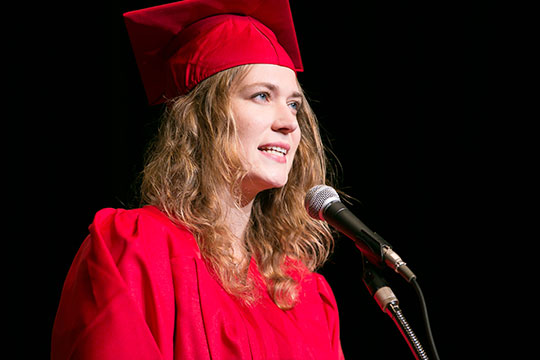 All of the graduates then gathered together to toss their red caps in the air to the chant of "We are APU" which was met with thunderous applause. The graduates left the ceremony in a joyous rush—each one eager to start out on their new life journey.
The graduation ceremony was streamed on Facebook Live.
APU Gallery
https://en.apu.ac.jp/home/gallery/article/?storyid=250