OITA CITY, Oita – APU and the Oita-Ken Credit Cooperative concluded a collaborative agreement with a ceremony at the Cooperative's headquarters on October 2.
Under this agreement, both parties will contribute to the advancement and revitalization of local communities in Oita Prefecture by cooperating in the areas of tourism and community development, talent development, and support for small and medium-sized enterprises.
In his remarks, President Haruaki Deguchi said, "APU is a new university that was founded in 2000 with the assistance of Oita Prefecture and Beppu City. Although international students comprise half of the student body, the other half are Japanese, of whom a third are from Oita and the remainder are from Tokyo, Osaka, and other parts of Japan. As the population continues to decline, the fact that we attract many students from the metropolitan Tokyo area has had a profound impact on the community. We are a global university, but I believe we can become even more global if we can become a university that the locals are happy to have in their community. I look forward to contributing to the development of the local community by working with the Oita-Ken Credit Cooperative, which has a strong track record of supporting small and medium-sized enterprises."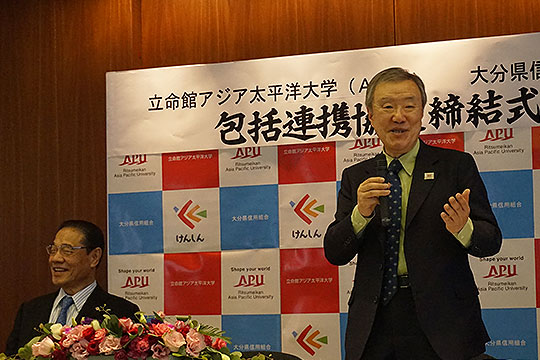 Kazuhiko Yoshino, the chairman of the board of directors of the Oita-Ken Credit Cooperative, stated: "The Oita-Ken Credit Cooperative exists for the sake of small and medium-sized enterprises. Oita Prefecture is striving to become the center of inbound tourism in Kyushu. We look forward to working with the local municipalities to create world-class tourist destinations with the students of APU, which has an internationally accredited tourism program. In particular, we aim to make Oita Prefecture even better by leveraging its excellent tourism opportunities in Kunisaki, Usa, Kitsuki, Bungotakada, and Beppu. We live in a borderless era, so we want to create work opportunities for APU students in order to strengthen ties between Oita Prefecture and the outside world."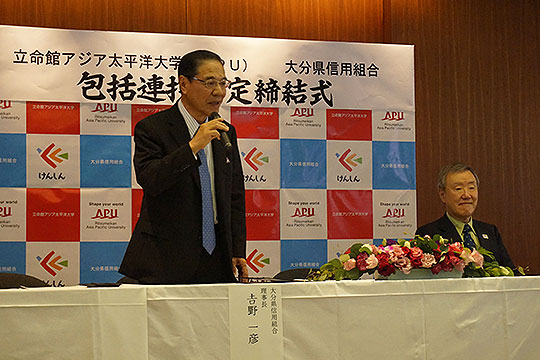 In addition to this agreement, APU maintains collaborative agreements with every municipality in Oita Prefecture and several local companies. APU recently signed cooperative agreements with Oita Godo Shimbun, TOS TV Oita, and Fundokin Shoyu. The University also entered a public-private partnership agreement with Japan Airlines (JAL) and Beppu City.