The public screening for the Ando Momofuku Honor Prize was held Wednesday, December 4, 2019. At the public screening session, the finalists were challenged to speak on the topic of "the reason why I am the best candidate for the Ando Momofuku Honor Prize". In an atmosphere of nervous energy, they gave presentations on what they have achieved at university and their future dreams in a public forum attended by current students, staff, and faculty members. These presentations were followed by a Q&A session in both Japanese and English.
The Honor Prize is a scholarship established in 2001 with the generous support of the late Ando Momofuku, the founder of Nissin Foods Holdings Co., Ltd. and recipient of an honorary doctorate from Ritsumeikan University. The Prize has continued to be run with the cooperation of Nissin Foods Holdings. Targeting undergraduate students planning to graduate in March 2020, the Prize aims to support and encourage students of excellent character with superior academic achievements, who have remarkable achievements as a leader in various activities, and who are expected to become leaders in Asia-Pacific region in the future. In addition to one million yen in prize money, recipients of the Honor Prize are granted the honor of speaking as the undergraduate representative of their graduating class.
The finalists, listed in order of their presentations, were as follows:
Ryo Onishi (class of '20, College of International Management; Japan) would like to enrich nations around the world, including in Asia, through supporting Japanese-owned businesses in expanding abroad and connecting the advanced technological capabilities of these Japanese-owned businesses with developing countries. He is aiming to resolve environmental issues and poverty through promoting cooperation and development across Asia and raising the minimum standard of living in developing countries.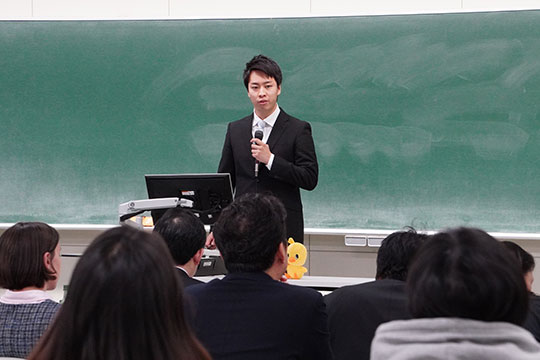 Sumire Matsumoto (class of '20, College of Asia Pacific Studies; Japan) has embraced the goal of transforming Girl Scouts into a borderless organization that transcends girls and women in her study of cultural and gender studies. From the Asia Pacific she aims to transform global gender circumstances.
Shivangi Shivraj Dharne (class of '20, College of International Management; India) aims to improve the lives of children around the world through leveraging business and technology by connecting resources with institutions where orphans live, and developing and constructing a platform for supporting them.
During the Q&A following the presentations, the judges asked a variety of questions. The judges' questions were rigorous yet caring, and all of the students responded to them with the utmost sincerity. The students also took the Q&A as an opportunity to give careful thought to their objectives and plans. A representative from Nissin Foods Holdings attending the presentations ended the evening by giving an encouraging talk to the presenting students and the audience in attendance.