On April 28, the Ritsumeikan Academy announced an emergency relief package in response to the COVID-19 outbreak, with a portion of this relief package designated for APU and its students. In early May APU asked stakeholders including faculty, staff, and alumni, to contribute to this fund in order to generate more financial resources to support students facing difficulty as a result of the pandemic.
Around this time, a group of APU alumni, faculty, and staff came together to establish the volunteer organization APU Hands, which began soliciting donation of food, money, and supplies with the goal of distributing relief supplies directly to students. APU Hands plans to continue soliciting donations until the end of this year. Below are comments from President Deguchi and founding members of APU Hands, as well as an overview of APU Hands' activities to date.
Letter of Appreciation and Report on Student Assistance
To everyone who contributed to the APU Emergency Student Support Fund and supported APU Hands:
First, let me express my appreciation for your support of Ritsumeikan Asia Pacific University (APU) and its teaching and research activities. Since early May, we have been soliciting donations to help students who are facing difficulties amid the COVID-19 crisis, and in that short time, we have received contributions from many people. I would like to thank you all for generously supporting our students.
We launched this donation drive to fund an emergency aid package (\30,000/month x 3 months) for students facing financial difficulties, and as of July 6, we have collected a total of \12,506,500 from 233 donors. In addition, 257 donors contributed \6,476,200 to APU Hands, a group of APU alumni, faculty, and staff who have been distributing food and other supplies directly to the students.
In just two months, we were able to collect nearly \20 million in donations, so once again, I would like to express my sincerest gratitude for your support. These donations came from the local residents of Beppu City and Oita Prefecture, APU alumni all over the world, our faculty and staff, and numerous other stakeholders. I am overcome with emotion by the sheer scale of this support for our students who are facing difficult times. This is truly the embodiment of the "One APU" ideal.
Using the emergency student aid funded by your donations and financial aid from the Ritsumeikan Academy, we are in the process of providing approximately 600 students with a relief package of \30,000 x 3 months. In addition, APU Hands has already distributed food and supplies to 2,417 students and plans to continue providing food aid going forward.
I believe many of you are also facing difficulties amid the current COVID-19 crisis, and we still do not know how long this pandemic will last, but I sincerely hope that the crisis will subside and we can all return to normal soon.
APU will continue providing our students with the utmost support to ensure they can continue their studies. I kindly request your continued support going forward.
Sincerely yours,


Haruaki Deguchi
President
Ritsumeikan Asia Pacific University (APU)

Thank you from APU Hands
To everyone who has supported APU Hands:
We would like to thank you sincerely for your support and understanding of APU Hands' activities.
When we heard about how APU students were struggling amid the current crisis, we could not stand by and do nothing. We established APU Hands in mid-April to help alleviate the worry and isolation students living away from home were facing.
This year marks APU's 20th anniversary, and for those of us who entered APU with the first class 20 years ago, this is a profoundly happy occasion. APU was able to mark this milestone 20th year thanks to the support of the local people, corporate partners, and other stakeholders all over the world.
It is our sincere hope that the current batch of students will continue to study at APU—with its unrivaled multicultural campus where we also studied, in Beppu, a city renowned for international hot spring tourism, and become people who can make the world a better place.
Drawing on the support we received when we were students, we believe it is our turn to lend the current students a helping hand. This is why we named our organization APU Hands. Based on the idea that students who have enough to eat can feel hopeful and start to envision a brighter future, we were able to start providing food aid after making preparations for a little more than two weeks.
With the help of other APU alumni, alumni from Ritsumeikan University, local residents, and APU's supporters, APU Hands' activities have grown, creating a wider circle of support. We were overwhelmed with emotion by the supplies you provided with messages of encouragement written on them as well as the steady flow of cash donations. We have come to realize that the true strength of APU lies in the bonds forged between and among people.
As of July 9, we have received \6,476,200 in donations from you, which we have used to provide relief supplies to 2,417 students. We would like to thank you very much for your support. We would also like to take this occasion to thank the university officials who granted us permission to establish this organization.
We do not know how long the impact of COVID-19 will last, but we will continue our activities while putting ourselves in the students' shoes. We kindly request your continued understanding and support.
Sincerely,
Lee Jae Goo
Ehara Mayumi
Okada Yoshinobu
Co-founders, APU Hands
Overview of APU Hands
Background
APU Hands was established when a group of alumni heard that a considerable number of students, forced to remain in Beppu because they could not return to their home country or home prefecture due to the COVID-19 pandemic, were struggling because they had lost income from their part-time jobs. The group was formed by alumni, faculty, and staff of Ritsumeikan Asia Pacific University. The group called itself "APU Hands" because it wanted to lend a helping hand to APU students.
Membership
Alumni, faculty, and staff of Ritsumeikan Asia Pacific University (around 40 members)
Contributions and in-kind donations * As of 7/9
Amount donated: \6,476,200 (257 donations)
No. of in-kind donations: 104
Past activities
May 2 - 5

First distribution, Part 1: 260 students

May 7 - 10

First distribution, Part 2: 180 students

May 17

Second distribution: 359 students

May 31

Third distribution: 630 students

May 25

Decided to stop accepting donations of meat and fish due to health concerns stemming from rising temperatures

June 2

Opened the "Stay with APU" Facebook page to collect messages of encouragement for the students

June 14

Fourth distribution: 569 students

June 28

Fifth distribution: 370 students
Future activities
After initially delivering rice and masks to students, APU Hands has regularly provided food aid to students through distributions at APU Plaza and AP House. As of July, students have started to receive subsidies and many have been able to return to their part-time jobs, so APU Hands will reduce the large distributions it has conducted every two weeks ever since early May.
For more information on APU Hands and its activities, please visit the APU Hands Facebook page.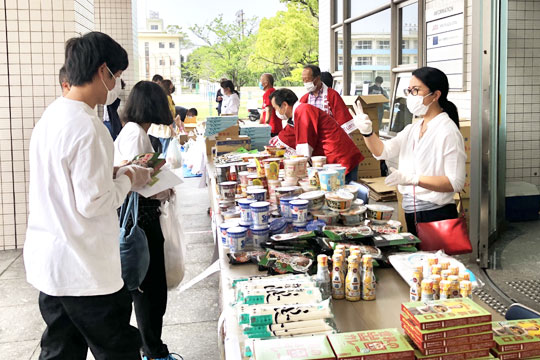 A request for donations to support APU students during the coronavirus crisis
To all faculty, staff, and other members of the APU community,
And to all those who would like to support APU students:
The Ritsumeikan Trust has finalized an emergency aid package totaling 2.5 billion yen to support students facing a range of difficulties amid the current coronavirus crisis while fulfilling its social responsibility for providing education.
As part of this package, the available scholarship slots for domestic APU students facing a sudden change in household finances will be expanded from 20 to 100, and all students will receive a lump-sum payment of 30,000 yen to offset the cost of preparing the network environment required for taking online classes. Furthermore, we are urgently discussing and working out the details of emergency aid (30,000 yen x 3 months) for students facing financial difficulties for various reasons as well as assistance for students living in town. For more information about the emergency aid package, please see here.
Amid this backdrop, the Trust has decided to begin soliciting donations for these emergency aid measures. At a time when our students are struggling, I believe all of us want to help them in whatever way we can. A group of APU alumni, faculty, and staff have already come together to establish APU Hands, which aims to provide direct support to students. This group has already received and distributed contributions from numerous alumni, faculty, staff, parents, and local citizens. This is a very welcome development, and I would like to express my gratitude for all the support we have received from our many stakeholders.
The aim of the Trust's donation drive is to pool more resources for emergency student aid from the faculty, staff, and many other people who support the Trust, but as I mentioned above, APU is already in the process of preparing its own fund for emergency student aid.
There are already concerns that the impact of this coronavirus crisis will be felt for a long time. Personally, I believe it is important for us to pool whatever resources we can to assist those students who are struggling now as well as additional students who may face difficulties going forward.
APU is one of the world's truly international universities, which makes us particularly susceptible to the impact of the coronavirus outbreak. Because of this, I am convinced that, once we overcome this crisis, we will enter an era in which the raison d'être of APU as an international university will shine even brighter, and the spirit of multicultural coexistence and international cooperation that can be learned here will grow even more appealing. I believe that by working together with our stakeholders, we can overcome these difficulties.
In closing, I kindly request the cooperation of our faculty, staff and all members of the APU community in supporting this donation drive.

President
Ritsumeikan Asia Pacific University

May 15, 2020