On Saturday, November 20, the first episode of Kikiyu, a podcast created by students of APU and Beppu University under the sponsorship of Beppu City and the supervision of BEAMS was broadcast. It is a limited, 8-episode program that will air every Saturday at 8 pm and will be available online until Wednesday, January 23. (Japanese only)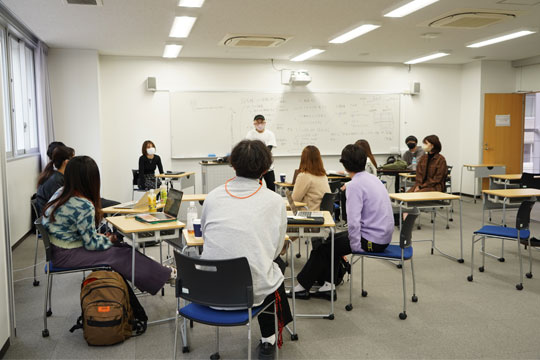 Beppu City, where APU is located, along with BEAMS Co., Ltd. holds an editing workshop called "BEPPU * Local Paragraphs" for university students with the aim of delving into the charm and future of the region. For participating students, it is a chance to experience regional studies and practice reporting their research results, as well as an opportunity to interact with and contribute to the local community.
This podcast project started in the summer of 2021 as one of the multiple projects of "BEPPU * Local Paragraphs," and 6 APU students are participating as MCs and technical staff. In order to share the charm of Beppu, which is rich in hot spring resources, the students learned from professionals how to produce online content. In October, the first face-to-face workshop was held, which included covering a community-owned hot spring in the city. Also, on December 10th, they interviewed Kenzo Fukagawa, (College of International Management Class of 2014) an APU graduate who runs a restaurant in Beppu City (Scheduled to air on January 8 and 15, 2022).
News/ Guest Corner MC
Moe Aoki (APM 4th year)
Ai Hadano (APS 2nd year)
& others
Audio Editing
Rinka Maruyama (APM 1st year)
Advertising/ PR
Mako Yagi (APS 2nd year)
You can listen to the podcast here (Japanese only).
Click here for the student-written article about last year's "BEPPU * Local Paragraphs 2020."