連携事業|講演・シンポジウム
Feb 15, 2022
On Friday, January 21, 2022, APU's Research Center for Muslim Affairs held an online talk event with Hiroshi Osaki, Chairman and Representative Director of Yoshimoto Kogyo Holdings Co., Ltd, a major force in the Japanese entertainment industry (especially manzai). This event, entitled "Owarai (comedy) and Regional Revitalization" drew around 40 APU students to participate.
In addition to Chairman Osaki, APU's Associate Professor and Research Center for Muslim Affairs Director Dahlan Nariman led the event while Dean of the College of International Management Lailani L. Alcantara and College of Asia Pacific Studies Professor Takayuki Kubo appeared as panelists.
Professor Kubo began by introducing APU saying, "APU, which has about 6,000 students, is much like Yoshimoto Kogyo, which has about 6,000 entertainers, in that they are a group of innovators." Next, Chairman Osaki explained how Yoshimoto Kogyo is built on the keywords, "digital," "Asia," and "rural areas," and how the company can cooperate with APU from here on to enliven Japan and the world from rural areas.
Afterwards, there were panel discussions as well as a Q&A session with students. Topics included the future of Yoshimoto Kogyo, entertainment, Japan and APU. They also debated over the key to human resource development and the relationship between love and humor.
For the participating students, it was a valuable opportunity to gain knowledge of new regional revitalization and global development based on comedy.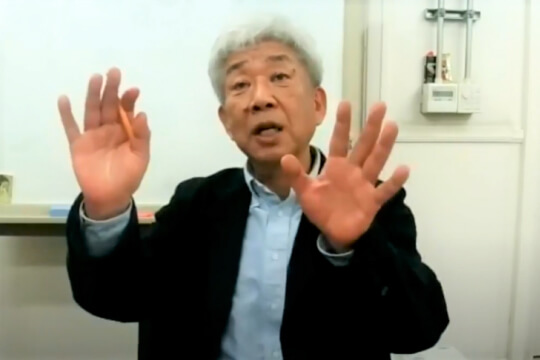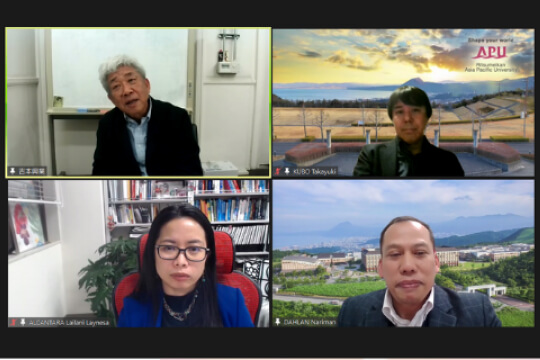 APU and Yoshimoto Kogyo Holdings Co., Ltd. signed a partnership agreement in 2016 with the aim of contributing to the development of international human resources and the development of local communities.
You can find the article about the partnership agreement here.