イベント|チェンジメーカー
Dec 9, 2021
APU graduates who are playing an active role around the world are valuable assets to APU. Thanks to the efforts and cooperation of the greater university community, the 2021 spring semester saw a broad range of alumni-related events, which have connected students, faculty and staff remotely with our graduates who are from all over the world and have helped one another broaden their horizons.
Alumni Chapters' Activities
The Fukuoka Chapter organized an online factory tour to a local soap manufacturer. The Kanto Chapter hosted a remote lesson on how to enjoy the spring vegetables by a vegetable sommelier and another online session featuring four alumni, who are managing their own NPO or start-up, working for a broadcasting agency (news zero) and who has managed to pass the American Institute of Certified Public Accountants examination. And the Thai Chapter planned an online reunion which attracted a great many graduate residing in Japan, Thailand, and other continents to reunite.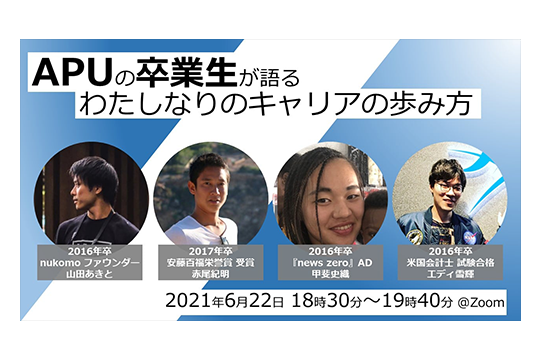 Alumni Groups' Activities
The APU Kids School invited a non-Japanese former graduate student to share her experience of bringing up children in Japan as well as three graduates-turned-school teachers of primary/secondary education to comment on what institutions in Japan are doing to help recently immigrated school children to fit in. The APU Startup Founders held their fourth and fifth online meetup, with the fourth featuring alumni who are currently pursuing postgraduate education while working, managing a café/bar in Beppu City, and an influencer who excels in multimedia promotion The fifth meetup showcased three YouTubers who are active in Japan, Turkey, and Vietnam. The Researchers and Educators Network (APU REN) conducted their online exchange and discussed ways alumni may engage with APU more closely as researchers or educators.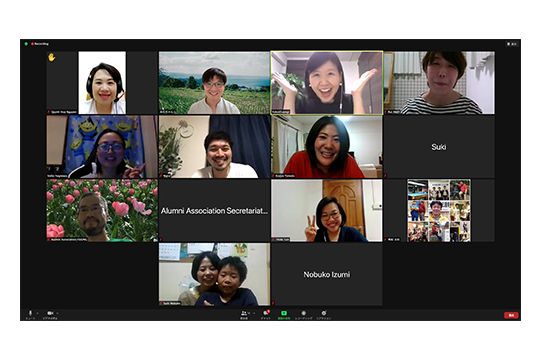 Student Groups' Activities
The student organization, Loop.A.S., which aims to connect alumni with current students, organized six online events featuring alumni as speakers. These included strategic planning for student life, preparations for internships, Japanese language hacks for international students, advice for postgraduate education, and one specifically for those interested in pursuing a career in the airline industry, with graduates who are currently working as pilot, cabin attendant, ground staff and administrator each sharing a detailed account of their respective roles.
APU Tech Club, which is a student body with a passion about technology and aspire to create a tech community at APU, invited two alumni working in the tech industry to speak to help demystify the relatively new field and advise current students on how to prepare for a career in the profession.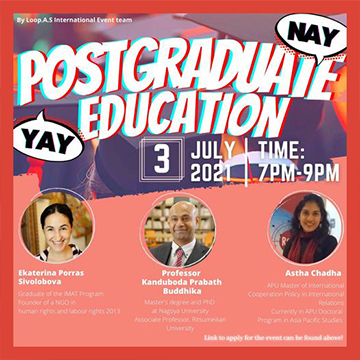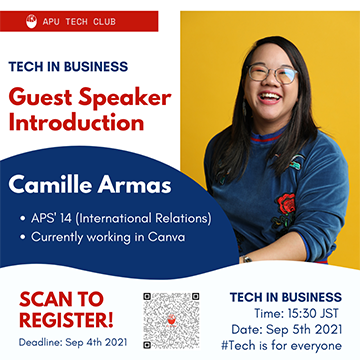 Individuals' Activities
In addition, two 2012 graduates have hosted four monthly online reunions with a bag/accessory manufacturer branch manager, a popular YouTuber, a Japanese language instructor teaching abroad, and an alumna working in Italy, as guest speakers. These once-a-month events are being continued into the fall semester, with former Japan Overseas Cooperation Volunteers who had been placed in Rwanda and Thailand already being invited.
Lectures
Alumni also contributed to the APU curriculum in the form of the Global Alumni Lectures (GOAL). 13 former English language basis international students and three former Japanese basis domestic students spoke to their juniors in the Japanese and English classes on how they tackled the challenge of improving their respective opposite languages and applied the related skills to their careers. In addition, two graduates spoke at the Introduction to Peer Leader Training class for first year students, the purpose of which was to encourage them consider early in their student life how they can make the most of their time at APU by listening to the advice of exemplary seniors.
We express our sincerest gratitude to all the alumni who have dedicated their precious time for the sake of their juniors during the 2021 spring semester, and welcome more current students and alumni to take an active part in and benefit from APU's ever-growing and unparalleled global networks.
APU Alumni Association Website: http://www.alumni.apu.ac.jp/en/
APU Alumni Association Facebook: https://www.facebook.com/apualumni.net
Alumni-related events to be held from April to September 2021
Date
Event name
Organizer
Speaker
No. of Participants
April
17
Star Draft
Loop.A.S.
Kasumi Narimatsu (2014 graduate), Gita Cherry Prabhandhari (2008 undergraduate/2010 postgraduate), Takumi Suenaga (2006 graduate), Riku Kurashita (2018 graduate)
14
18
How to enjoy spring veges by vege sommelier
Kanto Chapter
Yoko Uchida (2007 graduate)
11
21
Star Dash seminar (preparations for campus life)
Loop.A.S.
Naoki Shimonokado (2005 graduate), Yuko Arai (2016 graduate), Pandymeena Subbiahmoorthy (2019 graduate)
22
May
15
Preparations for internships
Loop.A.S.
Asuka Noguchi (2016 graduate)
20
15
Japanese Language Hacks
Loop.A.S.
Zena Fadilla (2020 graduate)
22
22
Fourth online meetup
APU Startup Founders
Senju Fujii (2017 graduate), Kenzo Fukagawa (2014 graduate), Leong Shen Lim (2015 graduate)
24
26
Introduction to Peer Leader Training
GOAL Lecture (Japanese)
APU
Takaaki Inoue (2011 graduate)
about 50
27
Introduction to Peer Leader Training
GOAL Lecture (English)
APU
Adrio Faresi Yusharyahya (2018 graduate)
about 50
June
5
Online factory tour to Shabondama Soap
Fukuoka Chapter
-
20
13
Elementary School Life in Japan
APU Kids School
Masaharu Shigematsu (2007 graduate), Kozue Yoneda (2008 graduate), Anjo Rui (2006 graduate), Quynh Hoa Nguyen (2020 graduate)
17
18
English/Japanese language
GOAL Lectures (standard curriculum)
APU
Total of 16
about 500
22
My own career path
Kanto Chapter
Noriaki Akai (2017 graduate), Akito Yamada (2016 graduate), Shiori Kai (2016 graduate), XU Jiajun (2016 graduate)
40
27
Iitomo APU Vol.1
Shino Yokomine/
Ryosuke Onizuka
Keita Matsunaka (2012 graduate)
7
July
3
Postgraduate education
Loop.A.S.
Ekaterina Porras Sivolobova (2009 undergraduate/2012 postgraduate), Kanduboda Arachchige (2005 graduate), Astha Chadha (2020 graduate)
30
9
Online exchange
APU REN
-
15
31
Iitomo APU Vol.2
Shino Yokomine/
Ryosuke Onizuka
Daijiro Kikuchi (2012 graduate)
64
August
20
Iitomo APU Vol.3
Shino Yokomine/
Ryosuke Onizuka
Tetsuo Takahashi (2012 graduate)
20
28
Fifth online meetup
APU Startup Founders
Yoshito Katanoda (2009 enrollee), Akari Nakatani (2016 graduate), Daijiro Kikuchi (2012 graduate)
20
28
Thai Chapter online reunion
Thai Chapter
-
70
September
5
Tech in business
APU Tech Club
Mingyu Du (2012 graduate), Camille Armas (2014 graduate)
30
11
Iitomo APU Vol.4
Shino Yokomine/
Ryosuke Onizuka
Sakiko Yoshida (2012 graduate)
23
18
Career in airline industry
Loop.A.S.
Shinichiro Obata (2008 graduate), Memi Suzuki (2013 graduate), Koji Ide (2016 graduate), Ken Inomiya (2012 graduate)
30